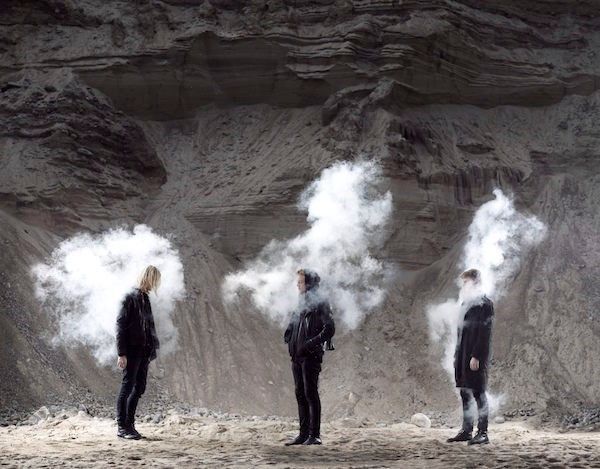 BY:LARM REVEALS MORE ACTS FOR 2015
The festival season begins at by:Larm. From March 4 to March 7, the very best of Nordic music scene will gather in the heart of Oslo for Norway's premier music showcase festival by:Larm. Over the last 18 years, by:Larm has slowly but surely developed from a small industry conference into Scandinavia's biggest festival showcase for new Nordic talent. With a diverse live program featuring over 100 artists, by:Larm introduces more established artists to an international audience as well as directing the spotlight towards new talents. Acts already revealed for 2015 include Anna Of The North, Communions, Deers, East India Youth, Gidge, Karin Park, SOAK and many more. Today, the festival reveals the next wave of acts set to perform at by:Larm 2015.
Astrid (NO)
Astrid is only 18 years old, but has already deeply impressed the audience and the music industry, both as a performing artist, singer and songwriter. She is a multi talent with an amazing sound, drawing influences from R&B, soul and electronica. "2AM" is the first new single from this unique talent
DNKL (SE)
It's been twelve exciting months for Swedish trio DNKL. Emerging from their Gothenburg basement studio at the end of 2013, the band have featured on some of the most influential music websites around, played at some of Europe's biggest festivals and won over a legion of fans around the world with their mesmerizing, dark electronic pop including debut single Hunt and follow up Battles.
Drippin (NO)
Erik Spanne, aka Drippin, is a young beatmaker with a flair for unique and compelling takes on club music of all types – eerie, erogenous, and evocative. Based in Norway, he produces duly icy riddims, drawing inspiration from hip hop, kuduro, grime and dancehall, flexing his chops across a spectrum of tempos.
Fay Wildhagen (NO)
Fay Wildhagen is one of Norway's newest additions to the Scandinavian music scene. Combining pop and folk music in a delicate way with a touch of melancholy, Øya festival described it as "a cross between Bon Iver and Ane Brun".
Hawkon (NO)
A couple of demos in the second half of 2013 saw Hawkon pick up praise across the web for his delicate falsetto and waves of looping textures. Fast forward another six months in the studio to the release of debut EP – Dare To Follow – defined by smooth and soulful vocals weaving and warping to an otherworldly, transcendental climax. The EP saw Hawkon work alongside Blue May (Kindness) and long term production partner Peter Jarrett.
Ida Jenshus (NO)
Since 3 times Grammy winning Ida Jenshus finished the "Someone To Love" Tour in 2013 , she's been working on a new album with the working title "Starting Over Again". She's produced new material constantly, on the road, in Southern France, in her basement in Trondheim, at Woodstock, in the attic of an old townhouse in Oslo. In early March, Ida's fourth album will be released, once again produced by the great Kaare Vestrheim. The expectations are high!
Kakkmaddafakka (NO)
Back in 2004 it would have seemed unlikely that this gang of Bergen teenagers and brothers would become one of the most successful bands to ever come out of Norway, but right from the start they had nothing but this on their minds. With their maximalist approach, playing with as many friends as they could fit on the stage, they soon caught the eyes and ears of international festivals including the Montreux Jazz Festival, CMJ, Melt! Festival, Lowlands and Sziget. Although they are in their 10th year as a band, with considerable achievements under their belts, KAKKMADDAFAKKA feel they are just getting started, and look forward to the next decade..
Les Big Byrd (SE)
Les Big Byrd's album "They Worshipped Cats", by many considered one of the top debuts of 2014, is an album filled with poems of time-space continuum read through vocoders, beautifully melancholic melodies, cosmic clouds of filtered string machines, motoric Krautrock drums, 12-string guitars, creamy moogs and heavy tape echoes.
Miriam Bryant (SE)
Since she first appeared in 2012, Miriam Bryant has made herself a name as one of the brightest shining stars on the Swedish pop scene. With a natural talent for songwriting and a singing voice and presence that leaves few unmoved, Miriam is without a doubt one of the names that you hear when people talk about the rise of Swedish pop music.
Redder (FIN)
Redder, the duo of Frans Saraste and Vesa Hoikka, describe their sound as a dark combination of folk and trip-hop. While being an electronic band, they still have a strong focus on songwriting and their live performances are something to look out for: an intense and mesmerizing audiovisual experience.
Slick Shootah (NO)
Slick Shoota hails from Norway and has been steadily rising in the bass music scene with releases on some of the most respected labels around. His own take on juke, footwork & UK inspired bass music has gained widespread support, ranging from Radio 1 tastemaker B Traits, to Rinse FM and Hyperdubs Scratcha DVA, Chicago legends DJ Spinn & DJ Rashad and many more.
Vök (ICE)
Vök has been generating a lot of hype in the vibrant music scene of Reykjavík. Their sound consists of dreamy electronics with melodic vocals and distant saxophones. Guitar also plays a prominent role in their sound, placing them a bit more in the realm of indie-electro. The trio is currently working on their debut LP, set for spring 2015 release. Vök have been compared to the likes of The XX and The Knife.
To see all artists booked for by:Larm 2015 so far, click here.
by:Larm takes place from 4 – 7 March 2015 in Oslo, Norway. Visit http://bylarm.no for more info.