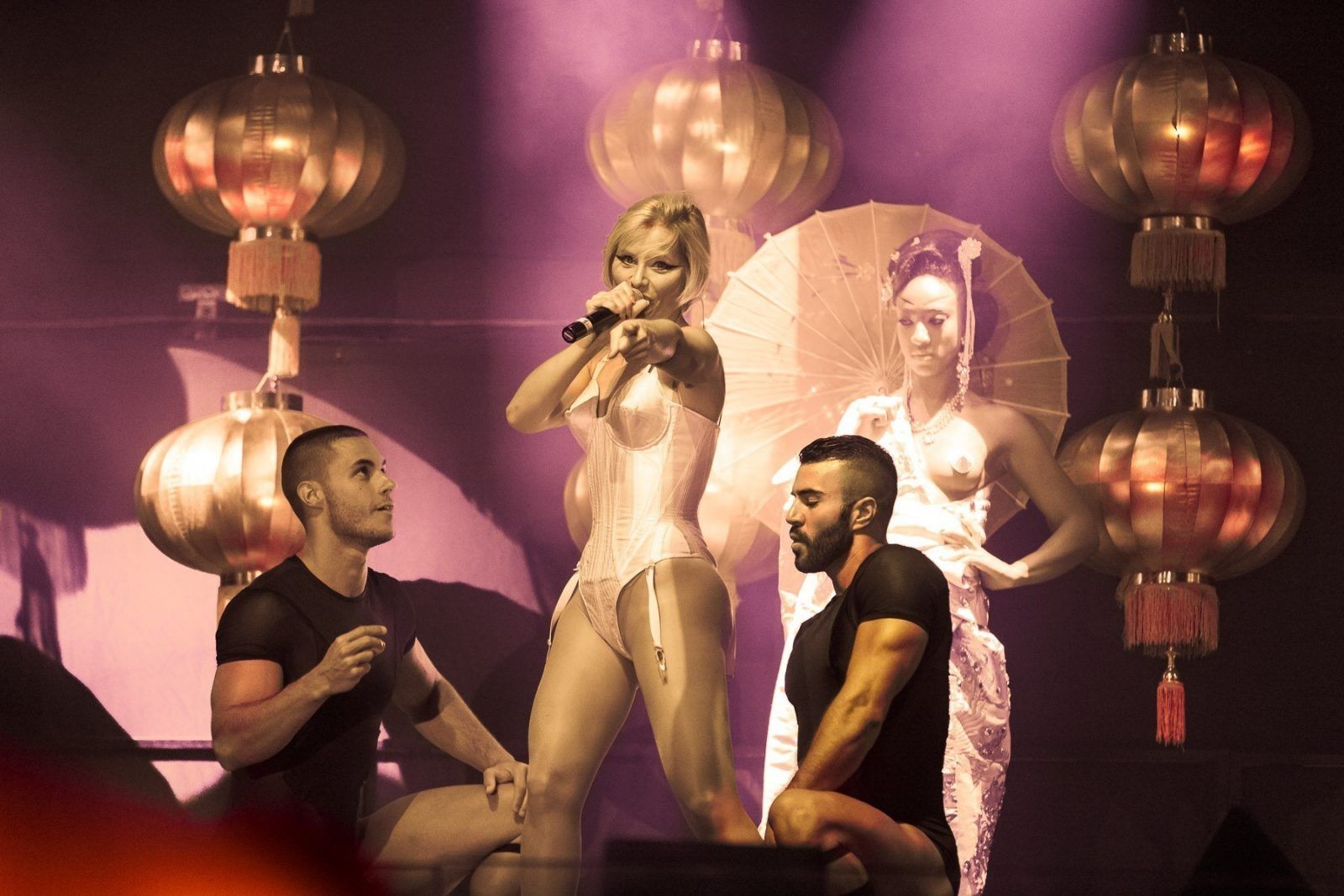 Café Olé says so long to Ibiza
Café Olé will close the season on Monday in which has celebrated 15 years. This has been one of the most successful seasons of Café Olé. Orient Strip will be the chosen theme to close this summer that is coming to an end. A year in which the most hedonistic party in Ibiza has surprised us premiering new theme parties, renewing resident DJs and introducing new performers and singers. The new Café Olé nights have been Flashback, a nod to glam, rock and extravagance of Ibiza in the late 80s; Erótica, a nightclub in Las Vegas in the 90s; and Orient Strip, a burlesque cabaret in Los Angeles in the 50s.
The most polysexual party of Space Ibiza not only brought new themes, but added to its large family of artists world renowned stars like Dita Von Teese, Boy George, Sharam (part of the duo, Deep-Dish) and the legendary Junior Sanchez. The queen of burlesque, which has been the face of the party throughout the season, Café Olé chose to present exclusively in Europe two of hers shows, "Opium Den" and "The Carousel Horse".
The performances of live singers have also been highlighted, incorporating as residents, the American House diva Ultra Naté and the Spanish singer Soraya Arnelas, without a doubt the most current recognized voice in national clubs. Next to them, Patrizze, veteran vocalist of the party. The style, glamour, transgression and ultimately, part of the essence of Café Olé, fell on the performances of Baby Marcelo and Miss Davilota. Miss Banbury Cross, known as the "the Marilyn of Burlesque" also returned again to revolutionize the stage at Orient Strip.
This coming Monday the lineup of the party is packed with familiar names of the island: Últra Naté, Soraya Arnelas, Patrizze, Albert Neve, House South Brothers, Jonathan Ulysses, Rafha Madrid, The Cube Guys, Danny Leblack, Baby Marcelo, Diva Houston and Miss Davilota. This is the last chance to dance at Café Olé, before it begins its world tour in October, with dates already confirmed in Brazil, Indonesia, Israel, USA and several European capitals.
Café Olé Ibiza is saying so long next Monday, September 15th at 11pm with Orient Strip. Buy your tickets or VIP passes to Café Olé.
To learn more about Café Olé and it's world tours, you'll find more information on www.cafeoleibiza.com