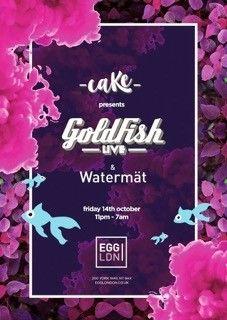 Cake Presents… Goldfish Live, Watermåt
"Break into the system, these walls between us are just way too high…."
Egg London are excited to serving Cake on Friday October 14th when South African duo Goldfish perform an Exclusive Live show alongside French DJ & Producer Watermåt.
Goldfish are 'two dudes from Cape Town who make live dance music or organic house, it's house music with a strong focus on live instruments like saxophone, keyboards, flute, double bass (which we play between the two of us) and other acoustic instruments'. Their signature sound is a mash up of Live music and DJ fine tuning with a healthy dollop of freeform improvisation, remixing their album tracks differently each show – Goldfish have hit a nerve on dance floors across the world.
With a cult following after their break-out track 'Fort Knox', known worldwide as the soundtrack to the hugely popular KIA 'hamster' TV advert in the US and a runaway Youtube success, these talented multi-instrumentalists really are breaking the system, breaking records, and breaking stereotypes about how live Dance music should be performed and produced. From their Platinum selling track 'This Is How It Goes' holding the title for the most played song on SA National Radio, to a record-breaking 8 South African Music Award nominations, numerous #1 and top 10 hits, 'Pure Pacha' compilations and their ubiquitous Remix of Bob Marley's iconic I' Shot the Sheriff', they've been nominated for Best Alternative Act at the MTV Africa awards, and performed for Nelson Mandela as ambassadors of his 46664 campaign. From festivals to some of the best clubs in the world, The Fishies' truly jump the great divide between dance and live excitement.
French musical artist and record producer, Watermåt first caused a commotion on the dance floor with his 2014 single "Bullit" , which went on to later top the charts across Europe, Australia and the UK. Teaming up with Moguai, Watermåt produced one of the biggest tunes of last year 'Portland' whose subtle deep house grooves evolve into a mesmerising main stage monster that's had everyone on their feet. Deep and emotional Watermåt promises to introduce clubbers to exciting and uncharted territory.