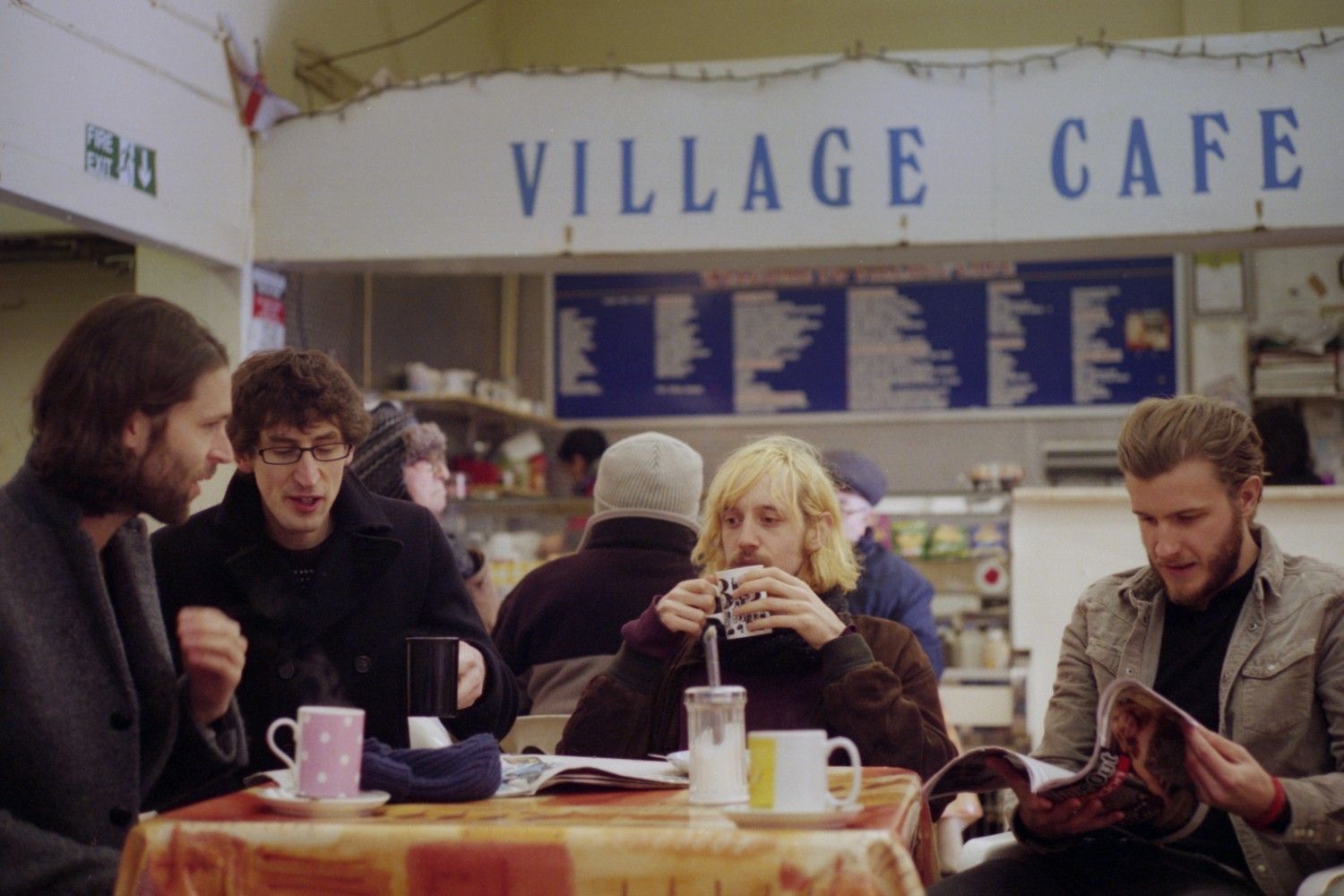 CAMDEN CRAWL FINAL LINEUP ADDITIONS
With summer quickly approaching things are heating up in more ways than one with only 6 weeks left to go until CC14 fills the streets of North London with some of the best new alternative sounds of 2014. With a new album on the horizon, this Summer Solstice sees London's very own Dry the River make their long awaited return to the festival. They are joined by of the moment Canadian songwriter Sean Nicholas Savage on an Electric Ballroom dream bill already overflowing with amazing North American talent including of Montreal, Au Revoir Simone and Jeffrey Lewis & The Jrams. Over at Dummy's electronic marathon SOPHIE will present his sonic assault of pop hooks, hyperreal sound design and club rhythms on at unrelenting bill at the Jazz Café whilst Big Deal, Thumpers and The Crookes bring their infectious brands of alt-guitar based pop to the festival's stages. CC14 also knows how to make a bit of a punk-noise racket with the likes of Nai Harvest, Youth Man, The Black Tambourines, Gang, Abjects and the truly bizarre Vodun newly added to the line-up.
SHAMBLES & ACMS CURATE AFTERNOON COMEDY STAGES
A crawl wouldn't be complete without its hugely popular comedy events. Limbering up with laughter on Saturday afternoon, CC14 presents two venues packed with side-splitting antics. Upstairs at the Camden Head is SHAMBLES, the self-proclaimed 'World's Best Comedy Night' is an avant-garde collection of the funniest acts at the forefront of invention and has previously showcased such major names as Stewart Lee, Nick Helm, Stephen Merchant, Rich Fulcher and. Tim Minchin. Shambles at CC14 will be a wonderful mix of brand new talent, big name acts and surprise special guests…The line- up thus far includes: Lee Kern (star of Celebrity Bedlam), Britain's Got Talent YouTube sensation Gaits Kandis, Lou Sanders (stand up as seen on Russell Howard's Good News), BAFTA nominated creator of Big Babies Spencer Jones and Max Dickens (Absolute Radio). www.facebook.com/clubshambles | @liveshambles
Across (Camden) town 'fresh Sisyphean comedy' hosted and curated by Thom Tuck awaits at The Grafton. For one afternoon only, The Alternative Comedy Memorial Society (ACMS) invades the Camden Crawl! Regular promoters at the Soho Theatre and a board membership which boasts such names as Josie Long, Bridget Christie, Tom Bell, Alexis Dubus, Sara Pascoe, Ben Target, Will Andrews, Isy Suttie & Nadia Kamil expect comedians trying valiantly to do something new, original and borderline funny! www.noblefailure.org | @altcommemsoc
CHALLENGE YOURSELF FOR FUN & STUPID PRIZES @ THE CC14 QUIZFEST
The annual quizzes have become a bit of a highly charged competitive institution at CC and 2014's guest quizmasters have put together special Saturday afternoon editions to kickstart the festival.
GEEKS INC QUIZ Do you know your Starks from your Lannisters? Your Cylons from Vogons? Based in Camden, Geeks Inc have been running extremely nerdy pub quizzes since late 2013 covering subjects including Doctor Who, Breaking Bad, Twin Peaks, Star Wars, Buffy, Firefly, Sherlock and more. For the CC14, expect to be tested on a number of those subjects, plus the odd other geeky fact. www.geeksinc.co.uk | @geeksincquizzes
SOUNDS FAMILIAR MUSIC QUIZ Described by Time Out as 'London's most popular, fun and definitely raucous music-based quiz', Sounds Familiar isn't your usual music quiz. It's not a nerd muso fest and there's now who was Xmas number one in 1973 style questions. If you don't know the answer, its encouraged to have a sing song and dance around (or on) your table instead. www.soundsfamiliarmusicquiz.com | @soundsfamiliar
THE FULL LIVE MUSIC LINE UP:
ABC | ATARI TEENAGE RIOT | DRY THE RIVER | YUCK
THE FIELD | MOUSE ON MARS | OF MONTREAL
PHIL HARTNOLL (Orbital) | PLASTICIAN | STEVE MASON
ADRIAN CROWLEY | ALEXIS TAYLOR | AU REVOIR SIMONE | BIG DEAL | BLIZZARD | THE CROOKES | CYMBALS | D/R/U/G/S | DIRTY BEACHES | DJ TARGET | GHETTS | GIRLS NAMES | GNARWOLVES | JEFFREY LEWIS & THE JRAMS | JOHNNY FOREIGNER | KLOSE ONE | KREPT & KONAN | KUEDO | LAETITIA SADIER | LAUREL HALO | LITTLE SIMZ LIVITY SOUND | MAUSI | MAZES | MUMDANCE | THE OSCILLATION | SEAN NICHOLAS SAVAGE | SHABAZZ PALACES | SOPHIE | TALL SHIPS | THUMPERS | VISIONIST | WOLF PEOPLE
ABJECTS – AKIINE – ANNEKA – ARROWS OF LOVE – AUTOBAHN – BAD FOR LAZARUS – BAD WOLF – BIRD TO BEAST – BLACK MOTH – THE BLACK TAMBOURINES – BOXED IN (DJ SET) – BRAWLERS – BROLIN – BRONTIDE – CADENZA – CATTLE & CANE – CHARLES HOWL – COCOS LOVERS – CROWS – CRUSHED BEAKS – CUT – DANCING YEARS – DESPERATE JOURNALIST – DIGNAN PORCH – DJ BIG TED – DJ EMILY RAWSON – THE DRINK – E.M.M.A – EARLY GHOST -ED DOWIE – EIGHTEEN NIGHTMARES AT THE LUX – EYEZ – FARAO – THE FAUNS – FELT TIP – FEMME – FIS – GANG – GAPS – GENESIS ELIJAH – GOD DAMN – GREAT YTENE – GRUMBLING FUR – HAIKU SALUT – HALLS – HENRY BLACKER – HIGHER PROSPECTZ – HOT FEET – JACK CHESHIRE – JAY PRINCE – JOEL BAKER – KATIE KIM – KINNIE THE EXPLORER – LADY LYKEZ – LARRY GUS – LONGFELLOW – THE MAGIC LANTERN – MAX MARSHALL – MICHAEL A GRAMMAR – MICKEY LIGHTFOOT – MIRACULOUS MULE – MOKADEM – MOON ATE THE DARK – MOON GANGS – MOURNING BIRDS – NAI HARVEST – NICK BREWER – NOVELLA – PALE SEAS – PARLOUR – PAWS – PETER BRUNTNELL – THE PHYSICS HOUSE BAND – PINS – PRIMETIME – PROSE – PUZZLE – RACHAEL DADD – RAINER – RHIANNON THE NIGHTMARE – ROB PURSEY – SCHOOL IS COOL – SEAMS – SHOPPING – SLAVES – SOCCER 96 – SOCIETY – SPIT SHAKE SISTERS – THEO VERNEY – THOUGHT FORMS – TOUT – TRAAMS – VIOLET SKIES – VODUN – WASHINGTON IRVING – WE ARE CATCHERS – WHISTLEJACKET – WILDFLOWERS – WILL VARLEY – WOAHNOWS – YOUNGHUSBAND – YOUTH MAN – ZaiiO
CC14 festival takes its seat upon the Summer Solstice June 20 – 21, 2014 within in a plumbing friendly environment comprised of independent venues and beer gardens for its annual live music marathon the week pre-Glastonbury.
More than 25 locations spanning the two mile stretch of NW1 will play host to over 250 live artists, DJs and specialist fringe events throughout the festival. Each evening's schedule will consist of a varied mix of the best emerging live music talent programmed by the UK's most prolific independent live music promoters and tastemakers.
The programme of events will commence early evening and run well into the wee hours with DJ and Club events spattered across the festival's venues both dates. Tickets are to be exchanged for wristbands which allow unlimited entry to each of the participating venues and events as individual capacities permit. Ticket price also includes FREE app, programme guide and 2014 compilation album.
UP TO DATELINE UP AND FULL EVENT DETAILS AVAILABLE FROM WWW.THECAMDENCRAWL.COM
TICKET INFORMATION & ON SALES DATES
DATES: Friday 20th & Saturday 21st June 2014 | 15:00 – 04:00
ON SALE: 2nd Release Tickets On Sale Now
TYPES: Weekend (2 day pass) – £49.50
Friday 20/6 (1 day ticket) – £27.50
Saturday 21/6 (1 day ticket) – £30.00
AVAIL FROM: www.thecamdencrawl.com
Ticket Web, Ticketline, We Got Tickets, Gigantic, Billetto, Songkick, Stargreen & Eventbrite
This event is for 18 years and older only. Tickets to be exchanged for wristbands and free programmes 14:00–22:00 at KOKO.