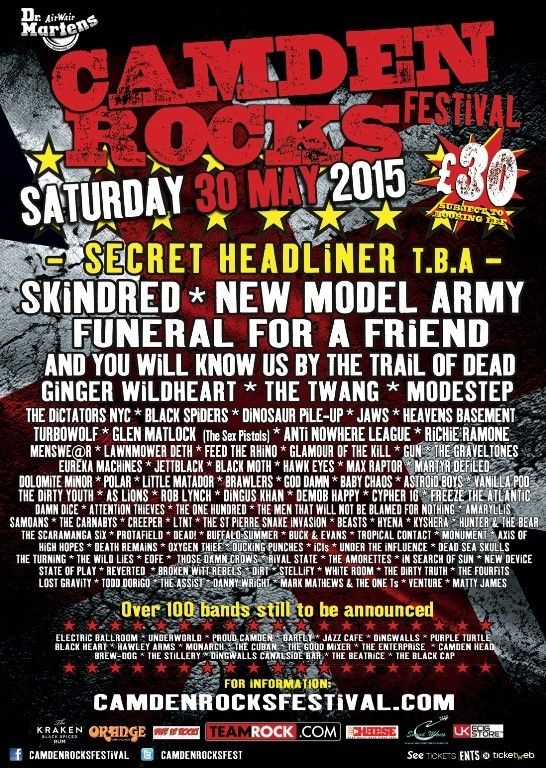 Camden Rocks add Skindred, Modestep, The Twang, Hawk Eyes & more!
More acts have been added to the bill for 2015's huge Camden Rocks Festival, taking place on Saturday 30th May across Camden's historic live music venues. Renowned for allowing fresh new talent to rub shoulders with some of the music world's most established acts, the organisers of Camden Rocks are excited to be able to announce that Welsh radical rockers Skindred have confirmed their addition to the bill.

"On Behalf of Skindred I can honestly say that we are honoured to be playing Camden Rocks," claims singer Benji Webbe. "We are bringing a killer set and we will be hitting harder than the rest and playing for keeps! Skindred Bigger Sound Dred Sound."
Also joining the bill this year will be London based genre-pushing electronic rockers Modestep. "We're really excited to be playing Camden rocks!," admits Josh Modestep. "Camden is and always has been a huge influence on our music, it's great to be coming back again to fill it with bass, sweat and loud noises!"
Also announced this week and joining the already eclectic and thrilling line up are: The Twang, Gun, Hawk Eyes, Astroid Boys, Those Damn Crows, The Dirty Truth and Todd Dorigo.
The line-up already includes big names in rock, metal, punk and indie including Funeral For A Friend, …And You Will Know Us By The Trail of Dead, Ginger Wildheart, The Dictators NYC, Heavens Basement, Black Spiders, Dinosaur Pile-Up, Turbowolf, Anti Nowhere League, Richie Ramone, Menswear, and Feed The Rhino.
With more big names, including a very special secret headliner still to be announced, Camden Rocks is a steal with tickets are priced at just £30 + booking fee, available now from: www.camdenrocksfestival.com.

The line up for Camden Rocks so far also includes: Funeral For A Friend, …And You Will Know Us By The Trail of Dead, New Model Army, Ginger Wildheart, The Dictators NYC, Heavens Basement, Black Spiders, Dinosaur Pile-Up, JAWS, Turbowolf, Anti Nowhere League, Richie Ramone, Menswear, Lawnmower Deth, Feed The Rhino, Glamour of the Kill, The Graveltones, Vanilla Pod, Eureka Machines, Jettblack, Black Moth, Max Raptor, Martyr Defiled, Dolomite Minor, Polar, The Dirty Youth, God Damn, Little Matador, Brawlers, Baby Chaos, As Lions, Rob Lynch, Dingus Khan, Cypher16, Freeze The Atlantic, Damn Dice, Attention Thieves, The One Hundred, The Men That Will Not Be Blamed For Nothing, Demob Happy, Amaryllis, Samoans, The Carnabys, Creeper, LTNT, The St Pierre Snake Invasion, Beasts, Hyena, Kyshera, Hunter & The Bear, The Scaramanga Six, Protafield, Dead!, Buffalo Summer, Buck & Evans, Tropical Contact, Monument, Axis Of, High Hopes, Death Remains, Oxygen Thief, Ducking Punches, iC1's, Under The Influence, Dead Sea Skulls, The Turning, The Wild Lies, EofE, Rival State, The Amorettes, In Search of Sun, New Device, State of Play, Reverted, Broken Witt Rebels, Dirt, Stellify, White Room, The Fourfits, Lost Gravity, The Assist, Danny Wright, Mark Mathews & The One Ts, Venture, Matty James.

Venues confirmed for Camden Rocks 2015 include: Electric Ballroom, Underworld, Proud Camden, Barfly, Jazz Cafe, Dingwalls, The Stables Outdoor Stage, The Foundry, The Barfly (Downstairs), Purple Turtle, Black Heart, Hawley Arms, Monarch, The Cuban, The Good Mixer, The Enterprise, Camden head, BrewDog, The Stillery, Dingwalls Canalside Bar, The Black Cap.

http://www.camdenrocksfestival.com
http://www.facebook.com/CamdenRocksFestival
https://twitter.com/CamdenRocksFest
#CamdenRocks