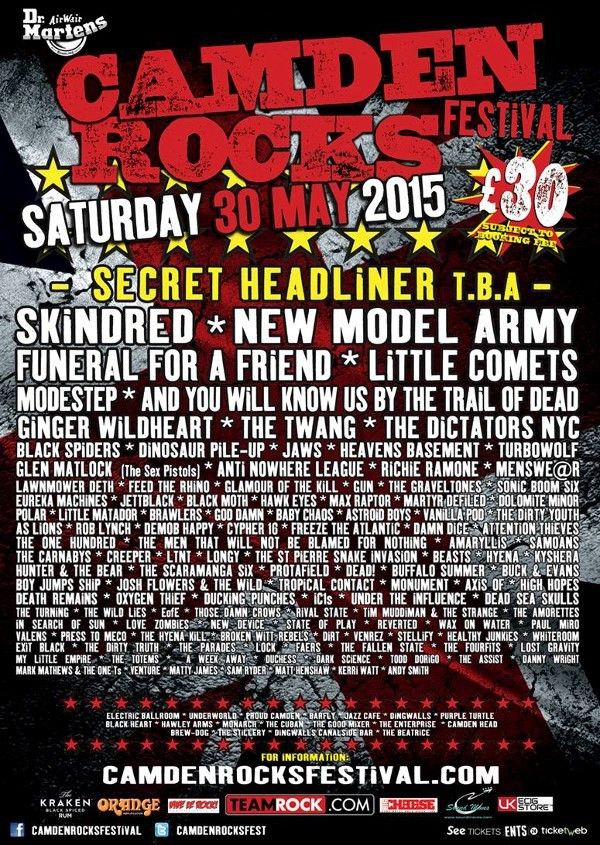 Camden Rocks adds Little Comets, Sonic Boom Six and more
The line-up for 2015's Camden Rocks festival has got even bigger, with names including Newcastle indie trio Little Comets, genre-hopping party starters Sonic Boom Six and more joining in the fun. With acts including Skindred, New Model Army, Funeral For A Friend, Little Comets, Modestep, …And You Will Know Us By The Trail of Dead, Ginger Wildheart and hundreds more, Camden Rocks 2015 is set to be the biggest yet – with tickets just £30 +booking fee.

Camden Rocks takes place on Saturday 30th May across the historic music venues and pubs in North London's Camden Town for a day of rock, metal, punk, indie and all out musical mayhem. Sonic Boom Six will be showing a different side to their sound this year, with singer Laila K saying: "After killing it last year at Camden Rocks, we cannot wait to do something a little different this year with our acoustic set. We'll be featuring stripped down versions of all the classic Boom songs, as well as a couple of cheeky covers to get you bouncing."

Little Comets frontman Rob Coles is excited to return to Camden for the festival: "We've done so many brilliant gigs in Camden over the last couple of years that it is great to be part of a festival in such a vibrant and knowledgeable place for live music."

Camden Rocks have booked a huge secret headliner for the festival and loads more massive names are still due to be announced!

The line up for Camden Rocks so far also includes (new names in bold): Skindred, New Model Army, Funeral For A Friend, Little Comets, Modestep, …And You Will Know Us By The Trail of Dead, Ginger Wildheart, The Twang, The Dictators NYC, Black Spiders, Dinosaur Pile-Up, Jaws, Heavens Basement, Turbowolf, Glen Matlock (The Sex Pistols), Anti Nowhere League, Richie Ramone, Menswe@r, Lawnmower Deth, Feed The Rhino, Glamour Of The Kill, Gun, The Graveltones, Sonic Boom Six, Eureka Machines, Jettblack, Black Moth, Hawk Eyes, Max Raptor, Martyr Defiled, Dolomite Minor, Polar, Little Matador, Brawlers, God Damn, Baby Chaos, Astroid Boys, Vanilla Pod, The Dirty Youth, As Lions, Rob Lynch, Demob Happy, Cypher16, Freeze The Atlantic, Damn Dice, Attention Thieves, The One Hundred, The Men That Will Not Be Blamed For Nothing, Amaryllis, Samoans, The Carnabys, Creeper, LTNT, Longy, The St Pierre Snake Invasion, Beasts, Hyena, Kyshera, Hunter & The Bear, The Scaramanga Six, Protafield, Dead!, Buffalo Summer, Buck & Evans, Boy Jumps Ship, Josh Flowers & The Wild, Tropical Contact, Monument, Axis Of, High Hopes, Death Remains, Oxygen Thief, Ducking Punches, iC1s, Under The Influence, Dead Sea Skulls, The Turning, The Wild Lies, EofE, Those Damn Crows, Rival State, Tim Muddiman & The Strange, The Amorettes, In Search Of Sun, Love Zombies, New Device, State of Play, Reverted, Wax On Water, Paul Miro, Valens, Press to MECO, The Hyena Kill, Broken Witt Rebels, dirt, Venrez, Stellify, Healthy Junkies, WhiteRoom, Exit Black, The Dirty Truth, The Parades, Lock, Faers, The Fallen State, The Fourfits, Lost Gravity, My Little Empire, The Totems, A Week Away, Duchess, Dark Science, Todd Dorigo, The Assist, Danny Wright, Mark Mathews & The One Ts, Venture, Matty James, Sam Ryder, Matt Henshaw, Kerri Watt, Andy Smith.

With more big names, including a very special secret headliner still to be announced, Camden Rocks is a steal with tickets are priced at just £30 + booking fee, available now from: www.camdenrocksfestival.com.

Venues confirmed for Camden Rocks 2015 include: Electric Ballroom, Underworld, Proud Camden, Barfly, Jazz Cafe, Dingwalls, The Barfly (Downstairs), Purple Turtle, Black Heart, Hawley Arms, Monarch, The Cuban, The Good Mixer, The Enterprise, Camden head, BrewDog, The Stillery, Dingwalls Canalside Bar.