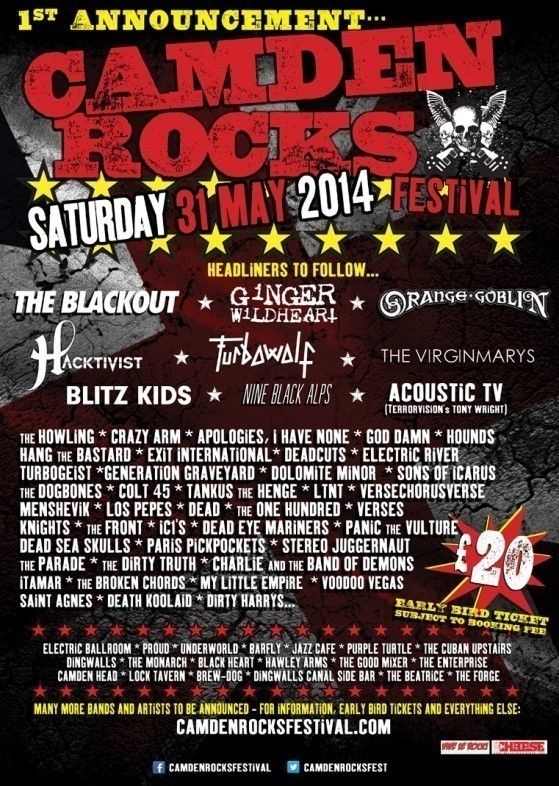 CAMDEN ROCKS FESTIVAL 31st MAY
Camden Rocks Festival returns Saturday 31st May and is proud to announce the first fifty bands of a line-up that will eventually see over two-hundred acts take over Camden Town for a day that celebrates everything that is exciting, vibrant and varied about guitar music in the UK right now.
Although the headliners are still yet to be announced, The Blackout, Orange Goblin, Ginger Wildheart, Hacktivist and The Virginmarys are confirmed to play alongside a wealth of new talent that showcases how incredibly healthy the UK's rock scene is in 2014 as rock, indie and punk bands rub shoulders in what is certainly the music capital of London, Camden Town.
Other bands joining the line-up include Blitz Kids, Colt 45, Los Pepes, Turbowolf, Nine Black Alps, Acoustic TV (Terrorvision's Tony Wright), The Howling, Crazy Arm, Apologies, I Have None, God Damn, Hounds, Hang The Bastard, Exit International, Deadcuts, Electric River, Turbogeist, Generation Graveyard, Dolomite Minor, Sons Of Icarus, The Dogbones, Tankus The Henge, LTNT, VerseChorusVerse, Menshevik, Los Pepes, Dead, The One Hundred, Verses Knights, The Front, IC1's, Dead Eye Mariners, Panic The Vulture, Dead Sea Skulls, Paris Pickpockets, Stereo Juggernaut, The Parade, The Dirty Truth, Charlie And The Band Of Demons, Itamar, The Broken Chords, My Little Empire, Voodoo Vegas, Saint Agnes, Death Koolaid and Dirty Harrys with many more to be announced.
"This is one big Rock n Roll street party," says event organizer Chris McCormack. "It's now in pretty much every venue in Camden. It's pretty cool to be able to turn Camden into the noisiest place on earth for a day! 200 of the best new guitar bands in 20 venues"
"We are super excited to be playing Camden Rocks," exclaims The Blackout's frontman Sean Smith. "Especially in such a rad venue as The Underworld. It's gonna be a hot sweaty one for sure!"
"Camden has always been one of our favourite parts of the UK for shows," joins in Blitz Kids frontman Joe James. "The rock scene there is unparalleled. We can't wait to play Camden Rocks!"
Last year's event was a sell-out success with over 150 bands taking over Camden. Bands such as Therapy? The Rifles, Hawk Eyes, Rise To Remain, Turbowolf, Fearless Vampire Killers, The Computers, Lost Alone and many more joined forces with legends such as the Sex Pistols guitarist Glenn Matlock, Carl Barat from The Libertines for a day of essential rock n'roll fun and action.
£20 early bird tickets are now available from the link below:
200 bands for £20 playing in twenty different venues, less than 10p per band!
Venues include:
ELECTRIC BALLROOM *UNDERWORLD * PROUD * BARFLY * JAZZ CAFE * DINGWALLS * PURPLE TURTLE * BLACK HEART * HAWLEY ARMS * MONARCH * THE GOOD MIXER * THE ENTERPRISE * CAMDEN HEAD * THE CUBAN * BREW-DOG * RECORD CLUB * DINGWALLS CANALSIDE BAR * THE BEATRICE