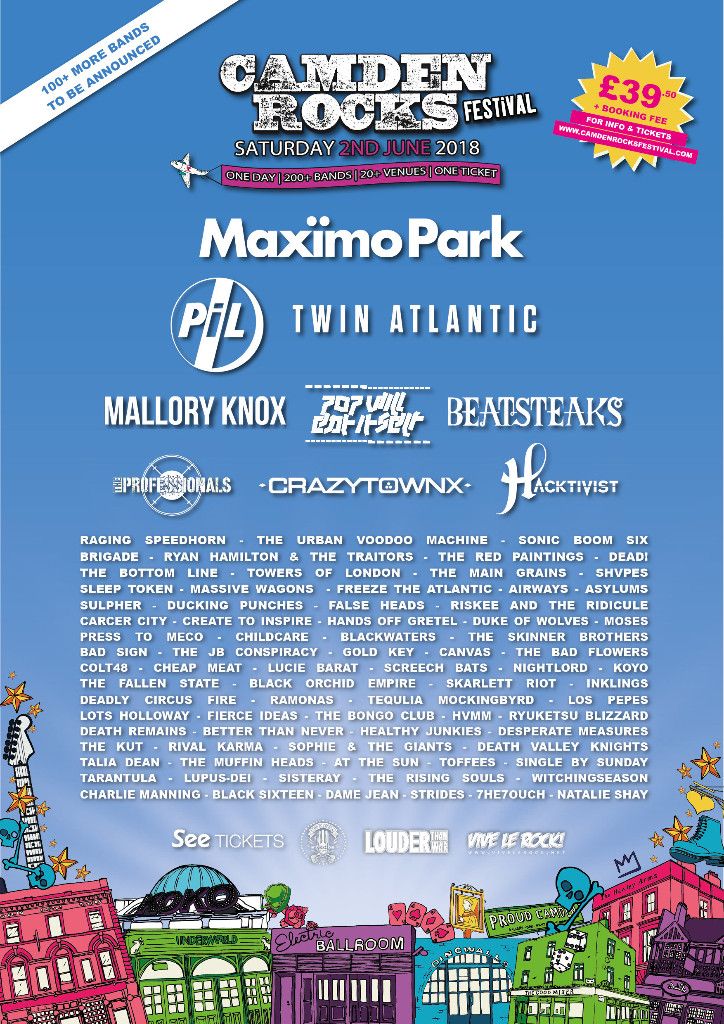 Camden Rocks Festival announces Mallory Knox, Hacktivist and 23 other bands
Camden Rocks Festival have announced today that UK rockers Mallory Knox will play the festival that starts on June 2nd this summer in North London.
This is the only London show for the Cambridge band who join British rap metal band Hacktivist and rock rappers Crazy Town, who have also been announced to play today, joining Mercury-prize nominees Maxïmo Park, fabled post-punk originators Public Image Limited (PiL), acclaimed Scottish rockers Twin Atlantic, grebo gurus Pop Will Eat Itself and post-Sex Pistols legends The Professionals.

"Camden Rocks is one we're really looking forward to," say Mallory Knox ahead of the festival. "We fondly remember playing venues such as The Barfly all the way up to The Roundhouse in Camden. With this being our first show back in London in well over a year makes it a special one for us."
23 other artists join the bill today including Dead!, The Bottom Line, Sleep Token, Airways, Sulpher, Create To Inspire, The Skinner Brothers, Bad Sign, The Bad Flowers, Cheap Meat, Lucie Barât, The Fallen State, Inklings, Deadly Circus Fire, Fierce Ideas, Desperate Measures, Sophie & the Giants, Death Valley Knights, Talia Dean, The Rising Souls, Strides, 7he7ouch and Natalie Shay.
Expect more bands to be announced soon that will form a line-up that covers every style across the many indie, rock, metal and punk genres, from buzzing new bands to established rock giants.
Camden Rocks Festival 2018 venues include: Koko, Electric Ballroom, The Underworld, Dingwalls, Proud, The Cuban, Monarch, The, Lyttelton Arms, Camden Assembly, Devonshire Arms, Roundhouse Studio, Dublin Castle, Blackheart, Fiddlers Elbow, Dingwalls Canalside, Belushis, The Hawley Arms, Brewdog, Camden Market, and The Crescent.

Full festival line-up, tickets and festival information can be found at:
www.camdenrocksfestival.com