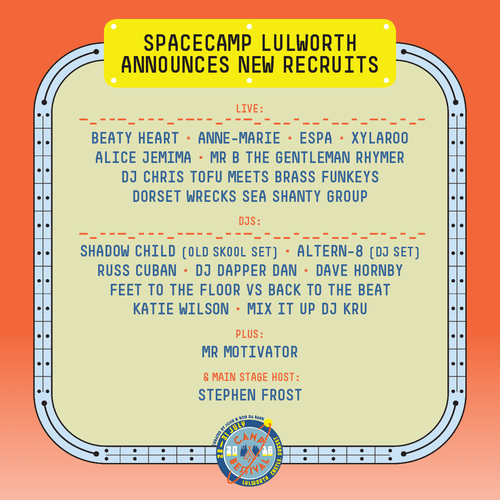 Camp Bestival Announces New Recruits
We are T-minus 69 days and counting until Camp Bestival's adventures in Outer Space begin! As lift off preparations get underway, we are very pleased indeed to unveil the latest astro-nutters and space cadets who will be joining us at Lulworth Castle this 28-31 July for some truly out of this world family fun at a castle campsite by the sea!
Rob da Bank says: "New music is always at the heart of our festivals and Camp Bestival proudly breaks loads of new acts. Were you there when Ed Sheeran played to 100 people in the Dingly Dell or when Lianne La Havas did a secret gig for about 50 people playing out of a garden shed?! These are the acts I tip for big things, so welcome Beaty Heart, Alice Jemima, Anne-Marie and Xylaroo. Add to that we all love a damn good rave up at Camp B, so I'm super chuffed to have Altern-8 and Shadow Child playing an old skool set. It's what we're all about!"
Launching us into a stratosphere of sound, there will be amazing live music from South London's Beaty Heart, long-time Rudimental collaborator Anne-Marie, London Music Awards Rising Star Espa, Sunday Best's soon-to-be not-so-secret weapons Xylaroo and Alice Jemima, and chap-hop don Mr B the Gentleman Rhymer. We'll also have an intriguing collision between festival legend and horn-powered hip-hop when DJ Chris Tofu Meets Brass Funkeys and rowdy sing-along fun with Dorset Wrecks Sea Shanty Group.
Dancing out in space is very much encouraged, so we have even more stellar selectors manning the flight decks including Shadow Child who will be treating us to an old skool set, masked rave legends Altern-8, party machine Russ Cuban, and the world's best, and, let's be honest, possibly the only, skanking town crier, DJ Dapper Dan. There will also be sets from Dave Hornby, Feet to the Floor Vs Back To The Beat, Katie Wilson and our unmissable old friends the Mix It UP DJ KRU.
And there's more. Hopefully rocking a spandex spacesuit, Mr Motivator will be helping us to stay limber during the weekend, while improv comedy genius Stephen Frost will be keeping things lively as our Main Stage host.
Summer is coming and tickets are flying. Don't miss out. And keep on checking our website, Facebook and Twitter for all the latest sub space communications.
SPACECAMP LULWORTH ANNOUNCES
NEW RECRUITS
LIVE:
BEATY HEART / ANNE-MARIE / ESPA / XYLAROO
ALICE JEMIMA / MR B THE GENTLEMAN RHYMER
DJ CHRIS TOFU MEETS BRASS FUNKEYS
DORSET WRECKS SEA SHANTY GROUP
DJs:
SHADOW CHILD (OLD SKOOL SET) / ALTERN-8
RUSS CUBAN / DJ DAPPER DAN / DAVE HORNBY
FEET TO THE FLOOR VS BACK TO THE BEAT
KATIE WILSON / MIX IT UP DJ KRU
Plus:
MR MOTIVATOR
Main Stage Host:
STEPHEN FROST