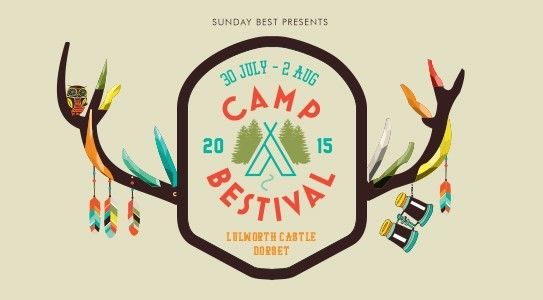 Camp Bestival Goes Wild
Camp Bestival 2015's music line-up is already bursting with brilliance, and we've got so many truly amazing theatre performances and shows, we could easily keep you and yours hugely entertained all weekend long. But this year, our festi-holiday exploits are all about reconnecting to Mother Earth, about going wild in the very best of ways, and with that in mind, we have a whole world of incredible activities that will get you and the kids loving nature like never before. So come and join us at Lulworth Castle this July 30 – Aug 2 and get closer to the living world.
Very wild man Rob da Bank says: "Going wild and getting back to nature is something that we're all really passionate about. With loads of technology and modern distractions it's easy to forget just how incredible wildlife is, but seeing the reaction to the small amount of wild activities we put on last year made us realise that going wild really is the best way to go. So this year we've got tons of ace stuff like the National Trust 50 things meadow, a whole world of crazy goings on in the Dingly Dell, Lizzie's Way, giant tree climbing, den building and even loads of exploring outside of the grounds of Lulworth Castle. Not forgetting the headliners and my kids' idols Steve Backshall and Michaela Strachan – wild heroes in the flesh! So there's no excuses not to go wild with us this summer. See you in the undergrowth!"

2015 is the year that we go completely wild at Camp Bestival, so who better to lead us into the wilderness sharing amazing tales of his wild escapades than supreme adventurer, TV presenter and author, Steve Backshall? We couldn't possibly have a wild theme without inviting Michaela Strachan back to Camp Bestival to share her awesome animal adventures with us in the Greatest Tent on Earth. And, we are honoured and overjoyed to welcome a truly wild legend…. drum roll please for the wonderful Bill Oddie, who will be musing about birds and birdwatching, and the wildlife he has been fortunate to see on his many travels over the years.
As part of Camp Bestival's passion to get everyone connected with Mother Nature and the wonders of the great outdoors, we're delighted to announce that the National Trust will be back in 2015 with their 50 things meadow at Lulworth Castle, giving kids a brilliant taster of their amazing '50 things to do before you're 11¾' initiative. The meadow will be the place to be, with loads of exciting challenges for kids and top adventures for families throughout the summer holidays. Amongst the exciting activities you'll get the chance to climb a big tree, create some wild art, sleep out under the stars and hear swashbuckling tales from the sea around a campfire. So make sure you head to the 50 things meadow and have a go.
This summer WWF-UK will be bringing the magic of the forest to Camp Bestival. Show your wild side with their animal mask making, or add your artistic touch to their forest creation. While you're there find out more about the Save Forests campaign and how you can help protect some of the world's most endangered forest animals.
One for the more adventurous, why not join the Eden Project for a Wild Woodland Quest? To succeed in this new off-the-beaten-track family adventure, you will need to work together, pit your wits to unravel the clues and tackle a series of challenges to finally claim your reward.
Last year we brought Wild Time to the Dingly Dell and it was so successful we even had queues for the woods, so we've have teamed up with The Wild Network again, and this year it's going to be bigger, better and even wilder! Visit their tent at the entrance to the Dingly Dell and let them prescribe your wild treatment, so you could end up climbing some trees, making mud pies, creating bug hotels or playing a host of wild games. Or in the evening, sit around the fire and hear great storytellers bring the wild to life and go for adventures deep into the woods.
Helping you to make the most of our woodland wonderland, ATE (Active Training and Education) will be hosting Wild Time in the Dingly Dell, with all manner of games, activities and hi-jinks such as animal and bird spotting, group sing-alongs, carrot whistle making, nettle string twisting and lots more. And each night ATE will have a special event that will make the most of the evening atmosphere. Make your own willow lanterns and join the lantern procession with live acoustic music. Or create a shadow puppet theatre in the trees and join our cabaret performance.
At the heart of Dingly Dell lies Lizzie's Way. Lizzie is awesome at creating fun in the wild for the young, and young at heart. Whether it is making a muddy treat, mixing up a potion or embarking on a woodland adventure, Lizzie's Way is the perfect place to fuel your little one's love for the outdoors.
Munching Caterpillars is the fun and wild education side of Butterfly Conservation; the biggest charity of its kind in the world! They will be returning to Camp Bestival this year to the Dingly Dell to celebrate all things butterfly, moth and caterpillar related with a whole bunch of super exciting activities like serving up treats for our insect friends at the Caterpillar Café, heading out on Moth and Butterfly Hunts and getting creative with Butterfly crafts.
Brand new for this year, we're super-excited about heading Off the Beaten Track, where you'll find some extra special goings on exploring the surrounding fields, woodland and the lake outside of the festival! You'll be able to get up close and hold local mammals that live near the Dingly Dell, with Live Mammal Meetings. Or you can bring your picnic hampers and really explore beyond the boundaries of the camp with a Lake Picnic Walk, hunt edible treasures on one of our Foraging Walks, or get involved with the woodland fun at Forest School. You will be able to sign up for the Foraging Walks and Forest School at the start of July, so keep an eye on our Website, Facebook, and Twitter.
That's just scratching the surface of all the wild happenings and occurrences across the site, we'll also have Jurassic CSI, Woodland Picnics, Campfires, Storytelling and Folk Sessions with Tim Laycock, Falconry, Bushcraft, Wood Whittling, and Wild Seed Planting. And keep an eye out for lariat crackerjack Cowboy Max, prehistoric jaw-dropper Rex the Dinosaur, and the staggeringly lifelike Dolly the Giraffe, too!