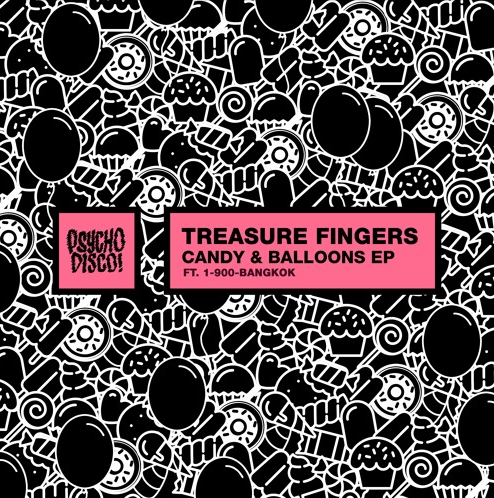 Treasure Fingers - Candy & Balloons EP
After a rampantly successful Psycho Disco! summer tour, label boss Treasure Fingers returns with an EP of new music that is just the right amount of funky and effervescent. Titled 'Candy & Balloons," the tracks ride a sugar-coated gas-filled high and round things out with both vocal and beat-oriented versions.
Delving deeper into the project, EP cut "Candy" introduces newcomer 1-900-BANGKOK and – as a good track should – contains a very tongue-in-cheek hook that will inevitable find itself lodged into the listener's brain on repeat. Then there's "Big Balloons," which rides a helium-filled composition, skipping across another cheeky vocal, thumping beat, and rolling bassline. The EP also features a dub version of "Candy" as well as an instrumental and acapella version for "Big Balloons."
If unfamiliar with Treasure Fingers before now, the veteran producer has built an enviable resume thanks to the accumulation of millions of track plays, official remixes for Avicii, Chromeo, Kid Cudi, Empire Of The Sun, Theophilius London, Miike Snow, and more. In more recent times, Treasure Fingers has also unveiled a new side-project called The Treasury whose track credits to date include Young Thug's album cut "Raw." Lastly, Treasure Fingers also stands at the helm of his own label Psycho Disco! which champions house music in all its four-on-the-floor glory.