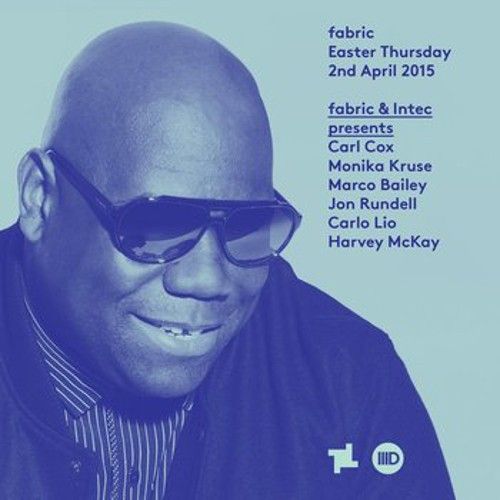 Carl Cox brings Intec back to Fabric
Carl Cox and Jon Rundell confirm the latest in the label's club series, Intec Allstars, returning to London on Easter weekend 2015, taking to the capital's legendary Fabric, for the third time

And this time it's bigger than ever. They'll be joined by a who's who of the Intec roster, including Monika Kruse, Marco Bailey, Carlo Lio and Harvey McKay and for the first time in Intec history they'll be taking over the whole of the club.

"We've already had some fantastic nights at Fabric, but have always wished we could bring more of our artists along," says Jon. "After talking to the club it made perfect sense for us to do this with them on Easter Thursday. We'll be opening up all the rooms, and we're stoked with the line up taking shape around me and Carl."

"It's a real statement for us to be doing such an event in our home capital and alongside Fabric, as we continue to bring our take on techno to the city." And the Allstars? "It's something Carl and I decided we would like to do as a concept, so that we can develop the feeling of Intec as a unit. It's something we're planning on building further this year."

Since launching the night at XOYO in 2012, Intec have travelled the world, taking in the likes of Ibiza, Amsterdam, Madrid, Switzerland and most recently BPM Festival in Mexico. Creating a world-class club brand to sit alongside the acclaimed label, Intec nights have become synonymous with cutting edge music and top DJ talent. They've continued to grow in size and regularity, with more dates for this year already being planned.

Label wise, Intec continue to pave the way with their acclaimed roster and releases. Last year saw a momentous 50th release, from Carl himself, but in the last 12 months alone they've repeatedly hit the Beatport chart, with the likes of Carlo Lio, Nicole Moudaber, Marco Bailey, Ramiro Lopez, Harvey McKay, Mark Fanciulli, Tomy Declerque, Project AKC, Drumcomplex & Roel Salemink.