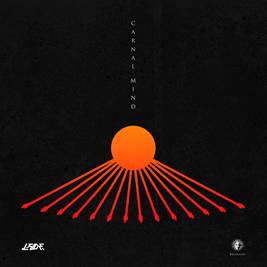 L-Side - Carnal Mind
Featuring Jeru The Damaja, DRS, Lady Chann, MC Fats, Darrison + MC Conrad
Leonardo de Jesus Silva, aka L-Side, began his career as a DJ and Producer in 2008 and the Sao Paulo born producer has gone on to cement himself as one of the most formidable producers to hail from the flourishing and highly respected Brazilian drum and bass scene, which is home to some of the most inventive and funkiest contributors to drum & bass this century.
As a nation bursting at the seams with prolific and highly talented producers, L-Side has managed to emerge as one of the most exceptional and 'Carnal Mind' proves the point.
'Holding On' ft. Lady Chann, is a dark, brooding, half time number, full of menacing atmosphere – infusing elements of dancehall and grime, complemented perfectly by Lady Chann's ferocious, trademark vocal delivery while tracks like 'High Times' unleash unrelenting breakbeat right from the gate. Pulsating synths add momentum, channelling subterranean depths as MC Fats patois-tinged vocals ride overhead. The dark storm clouds clear briefly, allowing celestial pads to momentarily reset the atmosphere before hurling the listener straight back into the thick of it.
In addition to his solo recordings, L-Side has collaborated with fellow V producers, Subsid, Andrezz and Critycal Dub among others.
The legendary drum and bass record label, V Recordings, was set up in 1993 by Jumpin' Jack Frost and Bryan Gee. Few record labels can claim to have changed the face of their respective scene. Celebrating their 25th anniversary in 2018, since its birth, the label has released over 100 cuts from the likes of Marky & XRS, Krust and Die, Adam F, Lemon D, Scorpio, Dillinja and Roni Size.
Tracklisting:
1. 'Carnal Mind' feat. Ras Tweed
2. 'No Sound' feat. DRS
3. 'Spellbound'
4. 'Don't Look Back' feat. Darrison
5. 'Bricks' feat. Stapleton
6. 'Punisher'
7. 'High Times' feat. MC Fats
8. 'Nigh Prowler' feat. Inja
9. 'Holding On' feat. Lady Chann
10. 'Da Sickening' feat. Jeru The Damaja & T.R.A.C.
11. 'Real Friends' feat. Fox
12. 'We Still Burn' feat. MC Fava
13. 'Glass House' feat. Collette Warren
14. 'Astronaut'
15. 'La Dolce Vita (The Good Life)' feat. MC Conrad
https://www.facebook.com/lsidebrasil/
https://soundcloud.com/l_sidednb
https://twitter.com/l_sidednb?lang=en