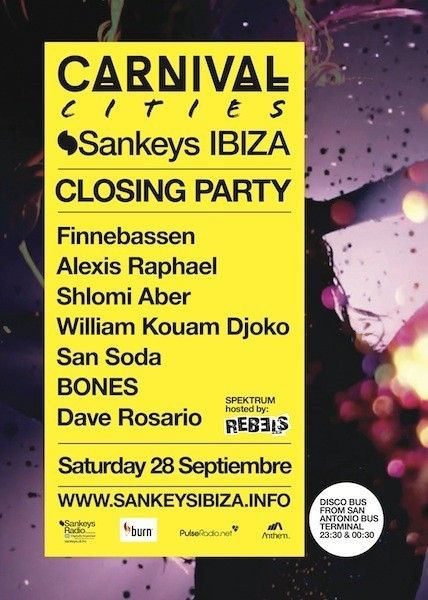 Carnival Cities rising stars fire up for closing – Sat 28 September at Sankeys Ibiza 2013
Sankeys popular in-house residency Carnival Cities taking place every Saturday night since June 8 will be calling time on another strong season this weekend, led by a parade of its pin-sharp residents including Finnebassen, William Kouam Djoko and Carnival regular Alexis Raphael.

The trio has all enjoyed outstanding seasons and especially during a summer notable for its 'DJ swaps', the exclusivity of Finnebassen and Kouam Djoko has been an exciting point of different for the club.

Finnebassen has enjoyed an outstanding first full season in Ibiza this year since being chosen as a new resident after a poll by owner David Vincent showed him the clear favourite among fans. The Norwegian has been a revelation this summer, growing in stature with every set – a feat equally matched by the swelling dancefloor that flock to each of his gigs. His fine form was recognisd by BBC Radio One who singled him out for a well-received Hot Mix last month. One of the highlights of the mix was a new original production 'Jaeger', a lush deep houser out now on the JEUDI Records as part of the Jeudi & Friends EP.

Listen to 'Jaeger' here: http://www.deejay.de/Volume_Three_the_Black_One__130178

Listen to Finnebassen's Hot Mix here: http://www.bbc.co.uk/music/artists/6cd984bf-b7a4-4ae6-b43c-ce6aa47b6317

Dutchman William Kouam Djoko has been a revelation at Carnival Cities this season, bringing more charisma and energy to Basement DJ booth than any other artist we've seen this summer. Unleashing a fresh track selection that seamlessly trapezes between jazz-infused house, rattling techno, bass and plenty of terrain in between, his talents have already been acknowledged by Eats Everything who earmarked him to join his Edible Tour earlier this year, while Leftroom boss Matt Tolfrey snapped him up to release his excellent 'Man Like Me' EP on his imprint earlier this summer.

Listen to William Kouam Djoko's fabric promo mix: https://soundcloud.com/fabric/william-kouam-djoko-fabric-1

Kouam Djoko isn't easily pigeonholed, however, and his upcoming release for Voyage Direct emphasises his square peg in a round hole diversity. Set for release in the second week of October, his 'Deflourished' EP is a 170bpm convention-smasher that skims influences from everything from ambient to Afrobeat and will see the artist wear a specially designed collection from designer Foxy Trix that corresponds with the tracks tribal undertones and will be worn in the track's video clip and corresponding gigs surrounding the EP's release.
The impressive rise of Alexis Raphael over the past couple of years has led him to be a regular feature at Carnival Cities this season, thanks to sure-fire winners on labels such as Hot Creations, Lower East and Heidi Presents Jackathon Jams, with failsafe DJ skills to match. No surprise that BBC Radio 1 featured him as a 'Future Star' on their program last month. With a sharp remix of Tiger Stripes 'Runaway' on Get Physical, plus many others to come, we can't wait to see him command the Sankeys basement once again for the Carnival Closing.

Alexis Raphael's Future Stars segment on Radio 1: https://soundcloud.com/alexisraphael/bbc-radio-1-pete-tongs-future

The line-up is completed by Shlomi Aber whose Be As One imprint co-hosted a successful night at Carnival earlier this season, San Soda, legendary party boy BONES and Dave Rosario.

Line-up
Finnebassen
Alexis Raphael
Shlomi Aber
William Kouam Djoko
San Soda
BONES
Dave Rosario

Buy tickets: 30+bf EUR from sankeysibiza.info

Sankeys Ibiza
Carrer de les Alzines 5, Playa d'en Bossa, Ibiza

Midnight – 6.30am

More info: Facebook.com/carnivalibiza

www.sankeysibiza.info
http://www.facebook.com/SankeysIbiza

Sankeys Radio has launched this season! 24/7 music with live-streaming and recorded content from your favourite Sankeys club nights. Listen from afar or relive the experience! http://sankeys.di.fm