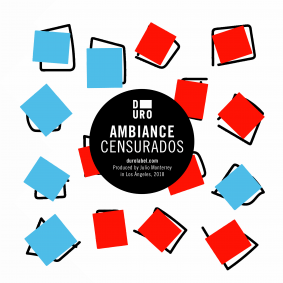 Ambiance - Censurados
Ambiance is a fast rising newcomer who is welcomed back on Mexican label Duro with another fantastic EP that includes remixes from Midnight Magic and Club Duro.
Ambiance is a project from a Nicaraguan artist living in Los Angeles. Surrounded by booty bass and Cuban music while growing up in Miami, he has a love of electro and freestyle. In the past he toured as a saxophone player, and brings all these eccentric qualities to his live shows and fascinating recorded music.
Opener 'Censurados' is a charming post-wave body music masterpiece. With lyrics that allude to post-punk's affinity to politics and somber disappointment, it is a joyful musical arrangement of angsty guitars and cosmic synths married to an industrial disco beat. Flipping the original, Brooklyn's Midnight Magic serve up a perfect Italo sounding remix with a squelchy bassline and lively synths that ooze colour.
The brilliant 'Hombre Aran?a' is the next original and has frenetic EBM bass, retro string melodies and roaring, sepulchral voices which bring intensity to the dance floor. The Club Duro mix is a shimmering track with rugged bass and echoing vocals, it's unusual and absorbing with great effects.
Last of all is a delicious dub mix of 'Censurados' that focusses on wet claps and tooting arps which keep on ramping up the energy levels throughout.
This is an EP that brims with post disco invention and excellent analogue sounds.
Tracklist:
1. Censurados (Original Mix)
2. Censurados (Midnight Magic Remix)
3. Hombre Aran?a
4. Hombre Aran?a (Club Duro Mix)
5. Censurados (Dub Mix)