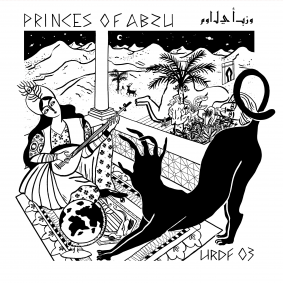 Various Artists - Princes Of Abzu EP
The Hard Fist imprint returns late April with the 'Princes of Abzu' various artists package, featuring cuts from the Hard Fist family Cornelius Doctor, Tushen Rai?, Simple Symmetry, Timothy Clerkin and more.
HARD FIST : ''The Lyon imprint Hard Fist strikes again with the various artists 'Princes of Abzu' EP, feeaturing producers hailing from multiple horizons. Although they may belong to different geographical spaces (London, Moscow, Amman, Tokyo, Paris…), the artists gathered in the EP share a common love for middle-eastern sounds and their transcendantal powers, which they mix with electro / cosmic / industrial beats, creating mystical imaginary landscapes, as if bedouins were organising a pagan rave in a Du?sseldorf factory.
The opening track Place du Pont made by the two label heads Cornelius Doctor and Tushen Rai? is built on a heavy, hypnotic, electro-tinged bass line heightened with vocal samples & oriental Oud sounds giving it a trippy flavor. Halay is the fruit of a collaboration between Parisians Ko-Shi-Moon and Moscovites Simple Symmetry remixed by Cornelius Doctor, telling the tale of the Halay dancers reveling in circles, exhilarated by an industrial groove while strange synthetic voices whisper.
J.A.K.A.M releases the tension and brings a more meditative note with his Jazzy yet exhilarating
sound, Tribes feels like a road trip in the desert while the sun is rising. Producer and percussionist Shadi Khries is also inspired by the desert, one place in particular : Wadi Rum, in his home country Jordan. He mixes traditional instruments like semsemeh (which gives its name to the track) bouzouki and oud, with electronic acid textures that makes it perfect for the club.
Finally, Timothy Clerkin's track is a meeting of two his favourite worlds : guitar-based psychedelic music & dark, mechanical acid – all covered with a film of Eastern smoke, hypnotized by the tablas running relentlessly.
The VA 'Princes of Abzu' package is out on Hard Fist 27th April 2018.