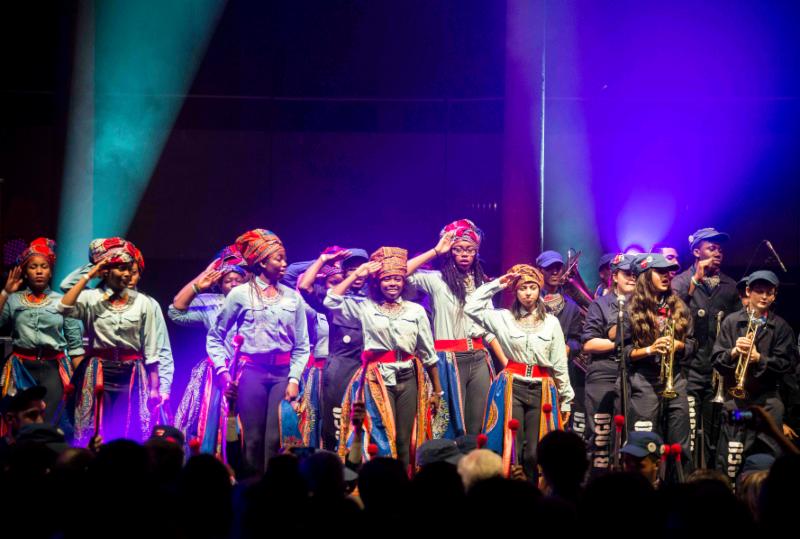 Cerys Matthews Announced as Host for On Mass 2017
As anticipation builds for On Mass at the Roundhouse, organisers announce industry figurehead Cerys Matthews MBE as stage host, for the ultimate mass music making spectacle that unites young creative collectives from around the world. The show which is presented by the EFG London Jazz Festival will be headlined by three-time Grammy Award winning artist Angélique Kidjo on Sunday 12th November 2017. The show will include both music and circus, the latter of which will entail acrobatics, juggling, fire manipulation and street dance.
Cerys is a DJ on BBC World Service and BBC 6 music, where she programmes and hosts an award winning weekly show. She was a member of multi-million selling band, Catatonia and has since founded a festival celebrating culture and the natural world: The Good Life Experience.
Speaking on her involvement with On Mass, Cerys said "When I heard about the On Mass project that the Roundhouse is producing with young artists from India, Palestine, Faroe, Brazil and Scotland I really wanted to get involved. It seems so important in these days of political turmoil to enjoy and encourage the idea that you can't close cultural borders, especially in a digital age. I'm really looking forward to what promises to be an extraordinary evening of international collaboration and the fact that Angelique is performing as well is just the cherry on the cake".
Alongside the exciting news of Cerys' involvement, the Roundhouse have also teamed up withBrainchild for an intimate warm-up showcase on Thursday 9th November at the Total Refreshment Centre in Dalston.
The night will bring some of London's most talented young musicians together with the international young beat-boxers, singers and instrumentalists who are in the city that week taking part in Roundhouse's On Mass programme.
From London, rising jazz talent Nubya Garcia will be playing a headline set with her all-star band, whilst fellow saxophonist Wayne Francis (United Vibrations, Ahnansé) will open the stage. He will be supported by Faroese and Brazilian singers and instrumentalists, as well as Indian drummers and beat-boxers.
One of the beatboxers will include twenty year old mass media student Nivedha Harijan. Nivedha says about the project "Sometimes people oppose me.. Sometimes they support me…but I feel proud to be a girl beatboxer. It was an amazing experience working with the World Beatboxing Champion…the one and only lady Bellatrix"
Musician and former female beatbox world champion Bellatrix will give a special set with Indian beatboxers she has worked with as part of the On Mass programme.
Before all the music begins, a special guest will lead a discussion with musicians from each different country present, looking at their influences and the relationship between traditional music, where they're from and how they engage with global musical phenomenons.
Having had some of it's core team and founders meet through taking part in Roundhouse projects, Brainchild is now an organisation with its own strong network of hundreds of young artists across visual and performing arts. Through this partnership with Roundhouse, they aim to create spaces to exchange ideas, break down barriers and make great art together.
Ahead of On Mass at the Roundhouse, the team recently released a video trailer showcasing some of the talent taking part with the spectacular international collaboration:
ON MASS AT THE ROUNDHOUSE
WITH
ANGÉLIQUE KIDJO
KINETIKA BLOCO
BREAKING CONVENTION
ROUNDHOUSE CHOIR
BATTERSEA ARTS CENTRE'S BEATBOX ACADEMY
ROUNDHOUSE STREET CIRCUS COLLECTIVE
ROUNDHOUSE AUDIO COLLECTIVE
ROUNDHOUSE MUSIC COLLECTIVE
WILLIAM ELLIS SCHOOL
19:30 – 22:00 | Sunday 12th November | Roundhouse, NW1
All tickets for On Mass 2017 are available from:
www.roundhouse.org.uk/whats-on/2017/on-mass-2017