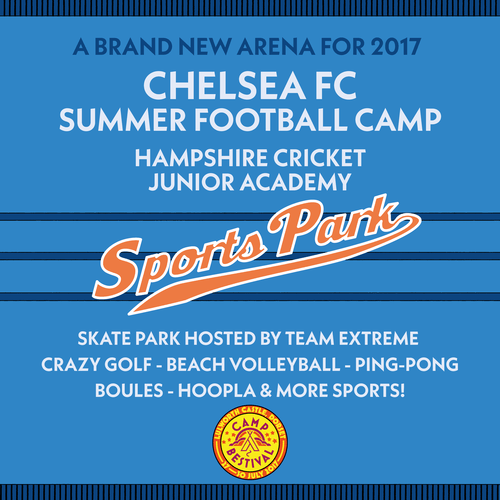 Chelsea FC Announced for Camp Bestival's New Sports Park
With just one week to go until we throw open the gates of Camp Bestival 2017 we are delighted to announce that our new Sports Park, completely redesigned in celebration of hitting the big one-oh, will be making its debut at Lulworth Castle. Featuring workshops with Chelsea FC and Hampshire Cricket Junior Academy, plus a wealth of fun and games that the whole family can enjoy, everyone could be a contender at Camp Bestival.
Rob da Bank Says: "Camp Bestival is many things – a family festival, a mum and dad's knees-up, a village fete next to a castle, but it's always been energetic and sporty, and we're pleased to announce a reinvigorated Sports Park for 2017. The da Banks are Saints fans at heart but no one can knock the fact that Premiere League winners Chelsea FC are coming to Camp along with Hampshire Cricket, and not forgetting crazy golf and beach volleyball… see you in the sandpit!"
We are extremely excited to welcome English Premier League Champions, Chelsea to Camp Bestival. Heading up the activity in our all-new Sports Park, CFC Summer Football Camp coaching staff will be giving us a taste of what it's like to win the top flight and imparting the club ethos to eager youngsters with 5-a-side, pop-up penalty shoot-outs and more. Plus, you might just catch sight of a dazzling replica of the Premier League Trophy too! An absolute must for even the casual football fan don't miss out on some league glory.
If the sound of leather on willow gets you more excited, then you'll be pleased to know that Hampshire Cricket Junior Academy will be hitting it for six with a series of workshops and sessions with their best batsmen, bowlers and coaches helping you to improve your action or shot selection. Or if something more extreme does the trick for you, you can rock tail-slides, kickflips and grab air with skate pros showing you the best way to attack our super-sick Skate Park hosted by Team Extreme. Maybe walking is more your pace so why not can play a round of Crazy Golf on our specially designed and fiendishly difficult course? And if getting handy in our purpose built sandy arena is your thing, we'll be bringing the spirit of Waikiki Beach to Lulworth Castle with Beach Volleyball for maximum fist-bump behaviour.
But that's not all, the Sports Park will also give you the opportunity to indulge in some simpler pursuits including Ping-Pong, Boules, Hoopla and more.
Giving everyone the opportunity to be a good sport, make sure you and all the family check out the brand spanking new Sports Park when you come to Camp Bestival.
Keep checking www.campbestival.net