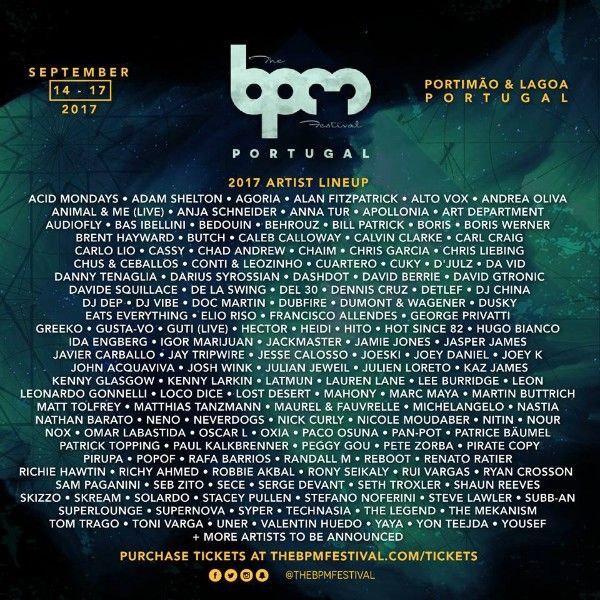 The BPM Festival: Portugal reveal full line-up with over 150 acts revealed
The BPM Festival's European debut sees Paul Kalkbrenner, Eats Everything, Skream, Anja Schneider, Paco Osuna, Cassy
and many more join the 2017 line-up
Plus showcases from Paradise, ANTS, elrow, Tru5t (presented by Nick Curly), Kaluki, No. 19 / Social Experiment, All Day I Dream, Ya'ah Muul, and many more
Line-up highlights:
AGORIA – ANDREA OLIVA – APOLLONIA – ART DEPARTMENT
BUTCH – CARL CRAIG – CASSY – D'JULZ – DANNY TENAGLIA
DARIUS SYROSSIAN – DAVIDE SQUILLACE – DUBFIRE – DUSKY
EATS EVERYTHING – GUTI – HEIDI – HOT SINCE 82 – IDA ENGBERG
JACKMASTER – JAMIE JONES – JOSH WINK – LAUREN LANE
LEE BURRIDGE – LOCO DICE – MARTIN BUTTRICH – MATTHIAS TANZMANN
NASTIA – NICK CURLY – NICOLE MOUDABER – PACO OSUNA – PAN-POT
PAUL KALKBRENNER – PEGGY GOU – POPOF – REBOOT – RICHIE HAWTIN
RICHY AHMED – RYAN CROSSON – SETH TROXLER – SHAUN REEVES
SKREAM – SOLARDO – STACEY PULLEN – STEVE LAWLER – SUBB-AN
TECHNASIA – TOM TRAGO – UNER – YOUSEF + MANY MORE
MANY MORE SHOWCASES & ARTISTS TO BE ANNOUNCED
The BPM Festival: Portugal
September 14 – 17, 2017
Portimão & Lagoa, Portugal
Festival Passes available here:
www.thebpmfestival.com/tickets
Listen to Steve Lawler's The BPM Festival Podcast here:
http://bit.ly/2ttX9XT
With just under two months to go, The BPM Festival have revealed the full lineup for their European debut on 14th – 17th September. Set to bring their globally respected festival to Portugal's stunning coastal towns Portimão and Lagoa, The BPM Festival's upcoming chapter sees over 150 acts confirmed to perform across four-days plus a discerning selection of brand showcases also in tow.
Packed full with electronic tastemakers, party starters and exciting new talent, the full lineup for The BPM Festival: Portugal certainly lays the foundation for an impressive debut. Joining techno pioneers Richie Hawtin and Nicole Moudaber is the masterful Paul Kalkbrenner and Paco Osuna, while UK selectors Eats Everything and Skream are also confirmed. Mobilee co-founder Anja Schneider and Ovum Records boss Josh Winkfurther emphasise the festival's high-quality music offering, as well as the additions ofGuti, Cassy and Art Department. German production wizard Reboot is scheduled to make his official BPM festival debut, joining emerging DJ Peggy Gou plus many, many more.
As The BPM Festival's first multi-day event in Europe, the expansion to Portugal extends the brand's decade-long prominence as the go-to festival for fans of quality underground dance music. Presenting over 20 party brands and label showcases from around the world, The BPM Festival: Portugal will take place across six venues in the adjacent coastal municipalities of Portimão and Lagoa. For its daytime programming, Portimão's newest beach club Blanco Beach will host daily beachfront parties, including Stereo Productions and Lee Burridge's All Day I Dream on its glistening golden sand whileCloque's inimitable open-air setting atop limestone cliffs will offer stunning sunset views to the sounds of Hector's Vatos Locos collective, Nick Curly presents TRUST and more.
Steps apart on Portimão's main pedestrian walkway of Avenida Tomás Cabreira, the nighttime programming introduces newly renovated rooftop venue Oceans Club, for events from the likes of Romania's SUNRISE and Don't Be Leftout with Visionquest, and party-ready Katedral nightclub, which will host parties from French label FORM Music and Stefano Noferini's Deeperfect. For its inaugural edition's largest events, previously announced daytime beach club NoSoloÁgua will see Brazil's Warung hosted by Ibiza Voice, Jamie Jones' globetrotting party brand Paradise and the Portuguese debut of Spanish partystarters elrow with more to be announced, while Lagoa's Centro de Congressos do Arade will have festival-goers dancing deep into the night for BPM's signature party YA'AH MUUL hosted by Deep House Amsterdam, Ibiza underground staple ANTS, and much more.
Tier 3 passes are now available via The BPM Festival's website. The BPM Festival has teamed up with Choice Holidays to offer accommodation-only and package options. Packages include flights, accommodation, airport transfers & festival tickets. Choice Holidays is also a member of the ABTA, and ATOL bonded. This means you can book in confidence through an insured company.  The packages are very flexible, offering thousands of flights from anywhere around the world. There are also various hotel options to suit your budget and preferences.
Event Details:
Name: The BPM Festival Portugal
Dates: 14th – 17th September 2017
Location: Portimão & Lagoa, Portugal
Tickets: www.thebpmfestival.com/tickets
The BPM Festival Portugal Lineup:
ACID MONDAYS
ADAM SHELTON
AGORIA
ALAN FITZPATRICK
ALTO VOX
ANDREA OLIVA
ANIMAL & ME (LIVE)
ANJA SCHNEIDER
ANNA TUR
APOLLONIA
ART DEPARTMENT
AUDIOFLY
BAS IBELLINI
BEDOUIN
BEHROUZ
BILL PATRICK
BORIS
BORIS WERNER
BRENT HAYWARD
BUTCH
CALEB CALLOWAY
CALVIN CLARKE
CARL CRAIG
CARLO LIO
CASSY
CHAD ANDREW
CHAIM
CHRIS GARCIA
CHRIS LIEBING
CHUS & CEBALLOS
CONTI & LEOZINHO
CUARTERO
CUKY
D'JULZ
DA VID
DANNY TENAGLIA
DARIUS SYROSSIAN
DASHDOT
DAVID BERRIE
DAVID GTRONIC
DAVIDE SQUILLACE
DE LA SWING
DEL 30
DENNIS CRUZ
DETLEF
DJ CHINA
DJ DEP
DJ VIBE
DOC MARTIN
DUBFIRE
DUMONT & WAGNER
DUSKY
EATS EVERYTHING
ELIO RISO
FRANCISCO ALLENDES
GEORGE PRIVATTI
GREEKO
GUSTA-VO
GUTI (LIVE)
HECTOR
HEIDI
HITO
HOT SINCE 82
HUGO BIANCO
IDA ENGBERG
IGOR MARIJUAN
JACKMASTER
JAMIE JONES
JASPER JAMES
JAVIER CARBALLO
JAY TRIPWIRE
JESSE CALOSSO
JOESKI
JOEY DANIEL
JOEY K
JOHN ACQUAVIVA
JOSH WINK
JULIAN JEWEIL
JULIEN LORETO
KAZ JAMES
KENNY GLASGOW
KENNY LARKIN
LATMUN
LAUREN LANE
LEE BURRIDGE
LEON
LEONARDO GONNELLI
LOCO DICE
LOST DESERT
MAHONY
MARC MAYA
MARTIN BUTTRICH
MATT TOLFREY
MATTHIAS TANZMANN
MAUREL & FAUVRELLE
MICHELANGELO
NASTIA
NATHAN BARATO
NENO
NEVERDOGS
NICK CURLY
NICOLE MOUDABER
NITIN
NOUR
NOX
OMAR LABASTIDA
OSCAR L
OXIA
PACO OSUNA
PAN-POT
PATRICE BÄUMEL
PATRICK TOPPING
PAUL KALKBRENNER
PEGGY GOU
PETE ZORBA
PIRATE COPY
PIRUPA
POPOF
RAFA BARRIOS
RANDALL M
REBOOT
RENATO RATIER
RICHIE HAWTIN
RHICY AHMED
ROBBIE AKBAL
RONY SEIKALY
RUI VARGAS
RYAN CROSSON
SAM PAGANINI
SEB ZITO
SECE
SERGE DEVANT
SETH TROXLER
SHAUN REEVES
SKIZZO
SKREAM
SOLARDO
STACEY PULLEN
STEFANO NOFERINI
STEVE LAWLER
SUBB-AN
SUPERLOUNGE
SUPERNOVA
SYPER
TECHNASIA
THE LEGEND
THE MEKANISM
TOM TRAGO
TONY VARGA
UNER
VALENTIN HUEDO
YAYA
YON TEEJDA
YOUSEF
The BPM Festival: Portugal Showcases
AKBAL RECORDS
ALL DAY I DREAM
ANTS
BACK TO THE FUTURE
DEEPERFECT
DETROIT LOVE
DO NOT SIT ON THE FURNITURE
DON'T BE LEFTOUT WITH VISIONQUEST
ELROW
FORM MUSIC
GIA SAI
KALUKI
NEOPOP
NICK CURLY PRESENTS TRUST
NO.19 / SOCIAL EXPERIMENT
NUMERO 00
ONE RECORDS
PARADISE
STEREO PRODUCTIONS
SUNRISE
VATOS LOCOS
WARUNG hosted by Ibiza Voice
YA'AH MUUL hosted by Deep House Amsterdam
+ More to be announced!
For more info, go to www.thebpmfestival.com