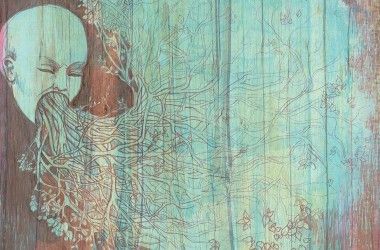 Chip Jacks – Woods
'Woods' marks the debut artist album from Chip Jacks, which comes with the added bonus of Plaid's remix of 'Roll Out East'.
Peter 'Chip' Jacks is an electronic music producer from Portsmouth, UK. Taking influence from the wide range of music he listens to and the sounds he finds and collects from everyday life, he has created a broad spectrum of electronic styles. After honing his production skills over the last decade, he has found a sound that encompasses music aimed at the dance floor, through to ambient and glitchy electronica.
He has gone through the usual process of DJing from a young age and then taking the natural progression into production, with a love of dance music from early on, leading to a deeper interest into electronic music. Along the way, he discovered incredibly talented artists, such as – Telefon Tel Aviv and electronic labels such as Warp, which became a turning point in expanding not only his musical taste, but also the style of music that Chip wanted to create.
The manifestation of which is this, his debut album 'Woods'. In fact lead track 'Woods' sets the theme of the album with crisp abstract beat structures and a futuristic wobbly bass, yet still retains a dreamlike melody and atmosphere from start to finish. 'Crunch Culture' is a much more mellow offering, with trip hop influences shining through. 'Sneaker' starts with a signature minimal tech beat, luring you in, then breaks into a floaty break track, with sharp twinkles and melodic strings.
'Vessels' features the vocals of Spain's Ramsinga to which Chip creates a sparse and downbeat backdrop of echoing piano, whilst 'Music Box' unravels within ethereal atmospherics creating an unsettling and eerie soundtrack. 'One Two' starts with a vocal hook which then breaks into a classic synth, and live drums whilst 'Super Drum' revolves around a more vibrant, driving beat and early nighties chimes, with a drifting acid noise, and then a drop, where the old skool bass line and warm pads bring the track to a close.
Having come up with an entire album of classic sounding tracks, Chip Jacks then gives us an early 80 kids TV intro with another break into the chaotic style drums of 'Roll Out East'. 'Granular Alice' is one for the dub step crowd. Haunting, ghostly pads, which then break into much a much more classic dub step bass and lead, but with a very distinctive and edgy feel. The most downtempo track on the album, 'Reactor' consists of trailing pads, which evolve and mutate into a cinematic sweep of emotion and light before the break down changes the track into a darker realm but with little wraps of sun shining through it.
So who better to finish the album off than none other than a remix from Plaid. Their mix of 'Roll Out East' shows why they are the best at their game, with seriously intelligent sharp fast beats, signature evolving atmospheric pads and a rolling distorted bass. 'Woods' is released 19 August on Murge Recordings.
http://murgerecordings.co.uk/
TRACKLIST:
01. Woods
02. Crunch Culture
03. Sneaker
04. Vessels ft. Ramsinga
05. Music Box
06. One. Two
07. Superdrum
08. Roll Out East
09. Granular Alice
10. Reactor
11. Roll Out East (Plaid Inashed Mix)