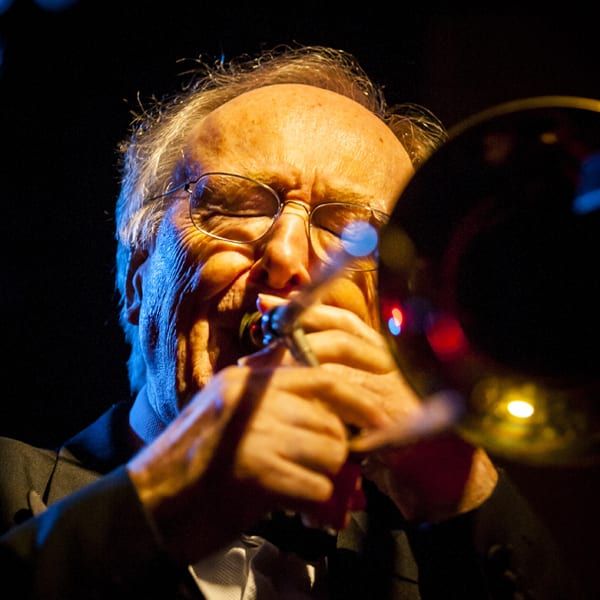 Chris Barber Retires After 65 Years As A Top Bandleader And Pioneer Of Blues In Britain
LONDON—Trombonist/bandleader Chris Barber has announced his permanent retirement from full-time music after leading his internationally popular band since 1954. His original small group initially played in jazz clubs but by the late 50s became an attraction in large concert halls throughout the UK and Europe.  Chris Barber's Jazz Band first toured the USA in 1959 after having a million-selling hit with "Petite Fleur" that year, featuring clarinetist Monty Sunshine.
Barber's passion for Afro-American music brought many American blues and gospel legends to Britain who appeared with his band, including Sonny Terry & Brownie McGhee, Muddy Waters, Louis Jordan, Sonny Boy Williamson and Sister Rosetta Tharpe. Together with his business partner Harold Pendleton, Barber opened the celebrated Marquee Club in London in 1958 where many British blues performers were first showcased including Alexis Korner's Blues Incorporated and The Rolling Stones.
Chris Barber's influence on the European music scene has been an extremely significant one, ranging from traditional jazz to Chicago blues, always played with great dedication to the music he loved. In fact, Barber led a band for more years than his hero Duke Ellington who achieved a mere half-century!  Now that Chris has retired, The Big Chris Barber Band will carry on as a tribute to his rich musical legacy.
Born in Welwyn, Hertfordshire in 1930, Chris became an avid collector of jazz and blues records before buying his first trombone at age 18 and formed a semi-professional band in 1949 when he recorded for the first time. He studied trombone and double-bass at the Guildhall School of Music and assembled his first professional band in 1953, fronted by trumpeter Ken Colyer. Colyer was replaced by Pat Halcox in 1954 who remained with Barber for 54 years. Chris also featured a skiffle group with singer/guitarist Lonnie Donegan, which led to a national craze for such blues-based music. The powerful blues singer Ottilie Patterson, who later married Chris, starred with his band for 20 years.
Over the years Barber successfully developed his Jazz and Blues Band and, due to his love of Duke Ellington's music, in recent times he augmented his personnel and renamed it The Big Chris Barber Band featuring many talented young musicians, bringing a new lease of life to his music and touring widely. The band recorded prolifically over the years in its many forms with numerous special guests. Barber was awarded the OBE in 1991. His autobiography Jazz Me Blues, co-written with Alyn Shipton, appeared in 2014.  The double album "Memories of My Trip" featuring his career-spanning collaborations with other jazz, blues, skiffle and gospel luminaries is being re-issued in CD format 11th October by The Last Music Company.
At the time of writing, quotes were available from:
ANDY FAIRWEATHER LOW: "There is no more important musician in my life than Chris.  Nobody has done more to shape the musical scene that I am part of than Chris.  I was lucky enough to tour as a guest with Chris and his great band. I will continue to tell people about the importance of his musical footprint. You've done more than enough Chris…time to sit back and pass the baton on."
BILLY BRAGG: "Chris Barber's influence on British popular music, be it through playing jazz, creating skiffle or promoting R&B, has been immense. His role in inspiring the world-beating British groups of the 1960s cannot be overestimated."
JOHN MAYALL: "I used to see Chris regularly when he came to Manchester with his band in the early Fifties and it is amazing that he's continued to entertain worldwide fans throughout so many years. Ever since those early days he has always been a good and supportive friend to me and his legion of fans. I was sorry to hear that he is retiring from live performances and I sincerely wish him well. We will miss him entertaining us with his unique trombone playing and leadership."
MARK KNOPFLER: "There's a short path from Chris Barber's front door to the first British rock records and my first musical passion, Lonnie Donegan. I didn't know it at the time, but it was Chris playing bass on Donegan's 'Rock Island Line', which turned out to be inspirational for so many British rockers. Chris Barber's contribution has been immense, and I salute him"
NICK LOWE: "Without Chris Barber, the sum total of Britain's contribution to popular music would be 'Green Door' by Frankie Vaughan."
PAUL JONES: "From 'Rock Island Line' until today, Chris Barber has always been like a father-figure to me; I cherish the times when he invited me to sing and play with his band – and when he returned the compliment by gracing (or, as he liked to put it, 'infesting') the stage or recording-studio with The Blues Band. An inspiration and a role-model; thank you, Chris!"
SIR TIM RICE: "Chris Barber's work in so many areas of jazz, blues and popular music since the end of the Second World War has been immense and often criminally underrated. It is very sad to hear that he is retiring from live performances which he continued to give with energy and panache until well into his ninth decade. He achieved great success and popularity during his long career but few of his stature have had such an influence on the development of British music across so many styles and generations."
LISTEN: