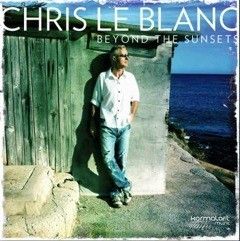 Chris Le Blanc – Beyond The Sunset
Just in time for the lasting warm transitional temperatures between summer and autumn Chris Le Blanc – a specialist for relaxing and soothing sounds in the colors of his adopted home: Ibiza – releases his first album. Le Blanc's compositions mirror the beauty of the island itself and not the party scenes and major events. Instead the album reflects the contemplative moods and moments of the not so well-known quiet and original side of Ibiza that go into his music. His skillful blend of electronic and acoustic instruments are a cocktail that captures these magical moments. For years this mixture has made Chris Le Blanc a highly respected artist whose songs on countless high-profile lounge and chillout compilations such as Cafe Del Mar, Buddha Bar, etc. are to be heard around the globe. With Beyond The Sunsets he has now fulfilled his dream of an album with 100% Chris Le Blanc tracks which carries the listener away to the emotional side of music with its 13 musical gems.
The wide range of his abilities as a composer, musician (with classical piano training) and producer is the result of his long- term creative work: The Pet Shop Boys appreciated his expertise as an arranger and remixer in the pop music field as well as Emilio Estefan, Thea Austin (Snap), Haddaway and Maggie Reilly (Mike Oldfield). Le Blanc's strong sense of acoustic images derives from his life on the island and the associated impressions: A multicultural way of life, untouched nature, personal experiences enriched with the essence of Buddhist philosophy. The result is an album that lets you sense the complexity of life as its sound of the island.
The names of artistic supporters read like the international "Who's Who" of the scene. Kami wrote and spoke the French lyrics to the opening track The Eyes of Revelation. Rhonda Bellamy (Las Vegas) lent her voice to Stardust Into Men. None other than Pat Lawson interprets the title track Beyond The Sunsets. In addition, the recordings were assisted by Ibizan icon Miss Luna, Mel T. Waters from New York, Sangre De La Tierra from Barcelona, the Brazilian singer Lisa de Anbrande and world-class musicians such as Raoul Walton on bass and Wolfgang Haffner on drums – thus, creating the musical equivalent of a literary work by which Le Blanc was very inspired: Nada Brahma – The World is Sound by Joachim Ernst Berendt. Just as the renowned music journalist and producer claims: the ear is the gateway to the soul. This also holds true for Le Blanc. Prose is an impulse to a musical journey into the land of imagination. A successful meeting point between tradition and modernism.
Beyond The Sunsets – Music for the senses, the perfect soundtrack from sunrise to sunset, from the first to the very last track – 100 percent worth listening to and 100 percent relaxation.