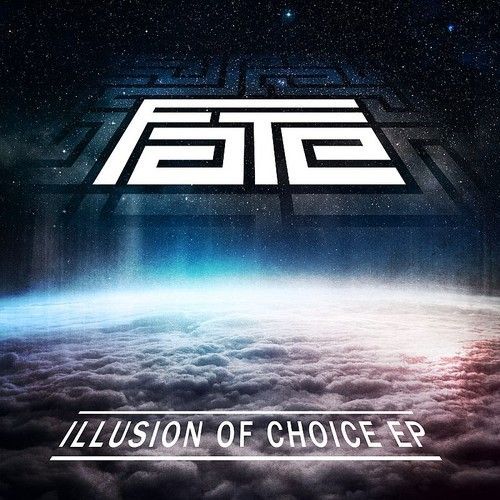 Chris.SU – Illusion of Choice
Scorching the scene with the label's firebrand debut late last year, Chris.SU's FATE imprint returns! Double the density, double the destiny… With these four massive cuts, FATE Recordings have the future of drum & bass in the palm of their hands.
Three originals, one instrumental: the Hungarian hero – who's slapped us into submission for many years on labels such as Mainframe, Bad Taste, Subtitles and Spearhead – has teamed up with some of the most respected individuals possible to create something truly special. Be under no illusions: this is big!
We launch with the breath-taking title track. Shimmering with the smouldering soul of MC Fedora (who last fronted with Chris.SU on last year's massive 'Guardian Angel') and the golden tones of the legendary Stamina MC, it's a subversive showstopper that not only drives any crowd deep into a trance-like state with its rushy synths and slippery basses… It also showcases some the best vocal skills we've ever heard from an MC partnership. Genuine lyrics, bona fide harmonies, serious skills. Drop it and watch your floor melt.
Next up: 'Above Earth'. Here we find Chris teaming up with long-term partners in grime State Of Mind. Their complementary styles and signatures already more than established, this is a chop-busting lesson in undiluted heavyweight sickness. Pneumatic steppy riddims, savage textures and tears and an overall finish that's rougher than a sandpaper massage, it's devilishly dirty!
Finally we hit 'Stereotype'. A track that belies and defies its pigeonhole moniker, this creative fusion between Chris and fellow Hungarian troupe Spinline has resulted in a purring, space-bound roller that oozes metallic menace while remaining deep, driving and understated.
Complete with an instrumental version of 'Illusion Of Choice', this really is a massive EP that will resonate with all corners of the drum & bass floor. We've said it before, we'll say it now and we'll say it in the future, too: It's time to start believing in FATE.