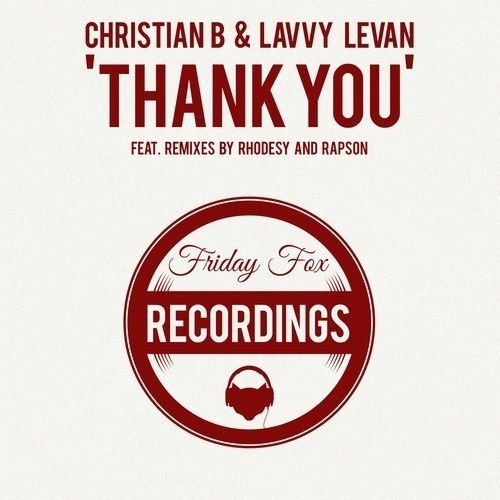 Christian B & Lavvy Levan – Thank You
Christian B & Lavvy Levan continue to gather some serious momentum with their homegrown Friday Fox Recordings label. Ready to raise hands on the terraces of Summer 2014, this terrific duo deliver a heartfelt message dedicated to the greats of the house music scene with 'Thank You'. Drizzled with bubbling 90's vibes, this deep house groove with soulful keys sees Lavvy gives thanks with a special spoken word before the hand raising piano breakdown arrives! Paul Rhodes takes it to the club, injecting driving classic percussion, piano stabs and an infectious bassline on his hypnotic re-interpretation. Also on the release and keeping it on the real, 'So Special' is an honest declaration of how love really does save the day! Marc Rapson joins team Friday Fox again on remix duty, delivering a tasty, deep bumping bass groover!
'We had started recording 'Thank You' as a way to say thanks to the greats of House Music – those that have inspired us throughout the years. The spirit of House steered us through some tricky times and provided the soundtrack to some of our most memorable moments. We had actually laid down the foundations for the track when we heard the tragic news about Frankie Knuckles passing – we then knew exactly where we had to take the track – and it just fell out of us, almost like it was meant to be! it's an honour for us to use our music as a way to say thanks to those who helped shape and influence us through their music'. – Christian B & Lavvy Levan
Christian B and Lavvy Levan have always had music at the core of their friendship. The early days included forrays into Rave and DnB, Pirate Radio sessions among other musical adventures. Musically reunited in 2013, they decided that the time was right to create Friday Fox and give birth to some individual yet accessible dance music and make their mark on the scene. Christian B's family have a long history in music with his Dad being a prolific musician Russ Ballard, with a career spanning 5 decades. Christian's environment growing up was always focused around the studio, and it was clear from an early age that music would be his profession and passion. Meanwhile, Lavvy grew up in a house filled with the sounds of Funk, Soul and Disco. As such, the natural attraction to unusual and funky music came early for Lavvy – and he started his vinyl collection at young age. While Lavvy explored the UK club scenes with his DJ sets, Christian moved into professional studio production writing and producing for Pop Idol and The Voice stars in UK and Germany. He's also had 5 top tens in the UK and 4 in Germany and was part of the remix team for Christina Aquilera, Leona Lewis, Alicia Keys and Lemar, among others. Christian also produced House music for Stip Records, more recently releasing with Bonnie Bailey on Strictly Rhythm and Fierce Angels. Christian & Lavvy's paths moved in different directions for a number of years, before re-connecting last year. Joining forces once again the boys emerged with 4 superb house cuts on the 'Toe In Water EP', heralding the launch of their own label Friday Fox Recordings in early 2014. This was followed by a tasty remix EP which included mixes from Rapson, Robot 84 and DSHunt along with a new track, 'Beatroot'. Christian & Lavvy are already rocking the socks out of this year, with supporters including Stonebridge, DJ Meme, Mr V and Aki Bergen, among many, and are perfectly poised to be one of the breakthrough labels of 2014!
Paul 'Rhodesy' Rhodes has been a Djing for over 30 years. A large contributor to the world of dance music, has recorded under many guises including Wax Factors, Harmonic System, Parliament Squares, Rhodes-K, Rhodeski & Splice, but most notably as the third member of the Hardcore outfit 2 Bad Mice who had a string of smash hits in the early 90's, including 'Bombscare'.
UK producer, remixer and keys wizard Marc Rapson has remixed tracks for Deborah Jordan (Futuristica), Scrimshire (WahWah45), Bennson (Raw Fusion) and Atjazz (Mantis) and has also re-worked tracks by Marvin Gaye and Sarah Vaughan. Marc's live work has seen him travel to New York, Tokyo and tour Europe as well as appearing on Later with Jools Holland with Ben Westbeech (Breach). He currently splits his time between the studio, gigging and tutoring at the Hertfordshire College of Music.
TRACK LISTING
1 Thank You (Original Mix)
2 Thank You (Rhodesy Mix)
3 So Special (Original Mix)
4 So Special (Rapson Mix)