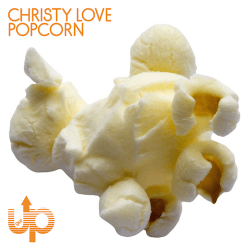 Christy Love – Popcorn EP
The latest release from Get Up Recordings comes from label co-owner Christy Love. The Popcorn EP contains two original dance floor killers, "B.W.F.A." and "Popcorn", with remixes of "B.W.F.A." from Chicago's John Mörk and L.A.'s Sharper Image.
Christy Love has been immersed in the house music scene for more than two decades and is one of the most sought-after DJs in NYC as she consistently destroys dance floors all over the city and beyond. Her distinct sets comprise of a clever mixture of classic and modern house bursting with driving beats and funky bass lines; she plays a pivotal role in defining the current underground sound of New York. This DJ prowess, combined with her production work as House of Stank with long-time collaborator, W. Jeremy, and the success of their label, Get Up Recordings, has transformed Christy into a house music triple threat. In 2013, she ventured into solo territory with "I'm Goin' Under", a classic underground house monster featuring a guest vocal by the world-renowned Mistress of Ceremonies and Scissor Sisters front-woman Ana Matronic. This single was also released on Get Up Recordings.
The first original track off the EP, "B.W.F.A.", comes straight out of the gate with an infectious groove that lays the groundwork for the rest of the track, including the commanding melodic trumpet. The rhythm of the track bounces hypnotically, automatically causing hands to propel into the air, while the slow undulating build of the break makes one want to plant their feet back on the ground to stomp some more. The first remix comes from Chicago's own John Mörk. Mörk, who was one half of The Sound Republic in the mid 2000s with releases on Guesthouse and Dae Recordings, now produces on his own and has remixed for Midnight Magic, The New Division, Speck Mountain, Change Request, and Goldroom. He has released music on Nu Jax Music, Seasons Recordings, Plus Plus, and his own label, NBD Music Company. Mörk's remix of "B.W.F.A." features his signature bouncy house style, giving it that extra Chicago house rhythm. The second remix of "B.W.F.A." comes from Sharper Image. Already part of the Get Up Recordings family with their remix of Mikey V's "Feenin'", the L.A. duo showcase their superb remixing abilities here by taking a different approach, creating the perfect happy summer house track with a beautiful nu disco edge.
The second original track is a quirky yet subtle b-side banger. "Popcorn" is a stripped down, bass and percussion heavy track with only a few musical elements that pack a powerful dance floor punch.
With this being the 27th release for the label, Get Up Recordings is definitely keeping the underground house scene poppin'.