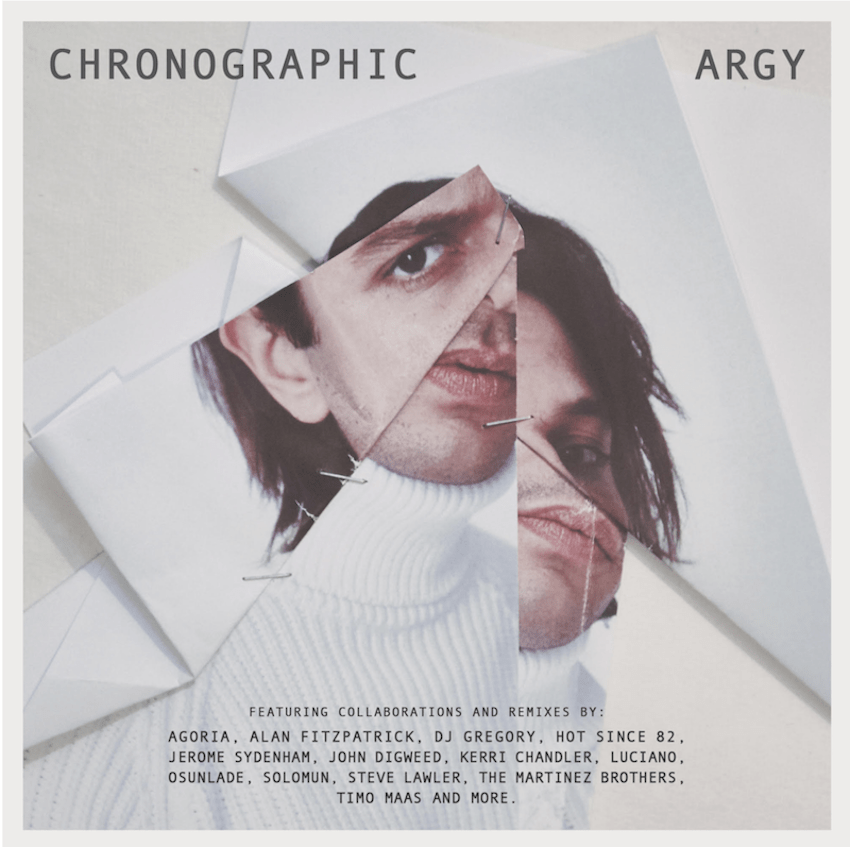 Argy - Chronographic
Dance music moves famously quickly. It means that sounds, scenes and selectors can all come and go in a matter of months. Although that is essential to the survival of the genre, it means only the truest artists remain relevant for more than one season. In no uncertain terms, Greek born, London based producer Argy is one of those. He has now been releasing music for more than a decade, yet remains as fresh and in focus as any over night, hyped up hero you can name.
This new retrospective compilation 'Chronographic' proves that, and will see Argy donate all proceeds to an LGBT shelter in New York City that offers help to the homeless, the mentally ill and anyone suffering prejudice because of their sexuality.
Argy comments: "Through the sales of my forthcoming retrospective album "Chronographic," I plan to raise money for "The New Alternatives", an organisation providing food and shelter for New York's homeless and disenfranchised LGBT youths. Many have suffered the indignities of having been kicked out of their homes by homophobic families, forced to flee conservative communities, aged out of foster care, or come from families torn apart by poverty, AIDS, drug abuse or eviction. House Music has given me a voice, a platform for expression, and generally a "passport" to experience this world globally. I want to give something back to the very source of the music and culture, from which it sprang. Forty years ago, this same demographic was suffering from severe prejudice and violence"
Along with 3 new cuts, the release pulls together a wealth of legendary material from his vaults, including collaborations with and remixes by the likes of Agoria, Jerome Sydenham, Luciano, Timo Maas, DJ Gregory and others. It is a cannon of work that stands alone and demands your attention, much like Argy himself.

Tracklist
ABBY – Hush (Argy Chronographic Mix)
Argy – What time is it? (It's 2016 Version)
Argy – Daze to come
Argy & The Martinez Brothers – Debbie Downer
Argy – I'm in
Z.A.M – Africa freedom (Argy remix)
Argy – Love Dose
Argy – Closer than most
Kerri Chandler – Fortran (Argy 6.23 mix)
Argy & Alex Picone – Eternal moment
Argy & MAMA – Kill for my treats (June remix)
Argy & MAMA – Recluse (Hot since 82 remix)
Agoria feat. Kid A – Heart beating (Argy tension remix)
Steve Lawler – Generation acid (Argy remix)
John Digweed & Nick Muir – Track for life (Argy remix)
Argy & Jerome Sydenham – In the mist
Argy & DJ Gregory – Our drums
Filsonik – Can U (Argy tool mix)
Stimming – Una pena (Argy nights of the deep tech)
Argy feat. Bajka – Upon Ourselves (Osunlade stripped mix)
Argy – Sometimes i'm blind
Timo Maas – Subtellite (Argy remix)
Argy & MAMA – Without me (Alan Fitzpatrick remix)
Jordan Peak – It's time (Argy rude dub)
Argy – Unreliable virgin
Alix Alvarez – Fayall (Argy remix)
Argy feat. Ditto – Let me out
Argy – The storm
Argy – Love Dose (Luciano remix)
"Chronographic" will be released May 16th via These Days Records.