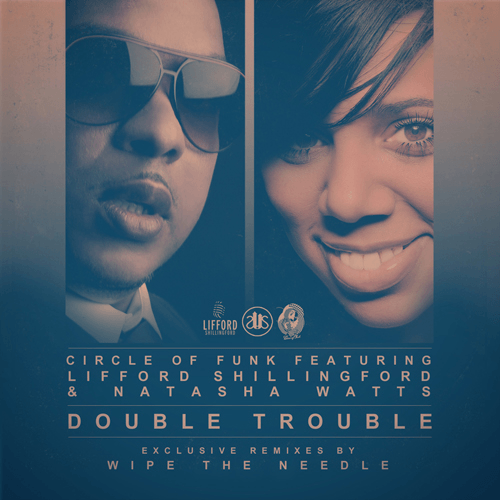 Circle Of Funk Ft. Lifford Shillingford & Natasha Watts – Double Trouble
Circle Of Funk join forces with 2 heavyweights from the UK Soul scene for a giant slab of soulful house titled 'Double Trouble' for Slapped Up Soul. Bubbling bass and punchy beats laced with seductive string stabs provide the musical backdrop to a call and answer duet from a couple who just can't seem to agree! Also on the package Circle OF Funk ramp up the boogie with their 'More Trouble Mix' armed with a oopping baseline and fizzing synths; and house duo Wipe The Needle magic up a sublime deep flavour for the floor with a remix and dub to keep the dance floors well oiled this Winter!
Circle of Funk have their roots firmly in Bristol, the music capital of the UK's South West – all four members, Lee Robinson, Paul Stephenson, Andy Caulfield and Daniel Ankrah all hail from there. Lee and Paul met at College and formed "The Cutz", which soon became one of Bristol's most prestigious Hip Hop shows, featuring as guests on Radio One's Tim Westwood show. In 1998 they formed a DJ duo called Culture Shock, making a name for themselves in South London gaining a strong following. In 2000, Andy Caulfield joined them, then later connecting with Daniel Ankrah a.k.a. Blackjack and Circle Of Funk was born. They set up their own label Slapped Up Soul label in 2010 with the first single 'Games' ft Mandy Senior. They have worked with artists including Natasha Watts, Lifford Shillingford, Dawn Tallman, Frances Mary and Charlene Samms, among many, and recently with their collaboration with Robert Owens on 'Invisible'. Circle of Funk continue to cement their reputation and are currently receiving great support from the world's house music fraternity, including Josh Milan, Phil Asher, Jon Cutler, Boddhi Satva, Andy Ward and CJ Mackintosh to name a few. They promise some exciting releases in the pipeline including Mr V, and another project with Wipe The Needle, as well as working on Nu Soul, Downtempo and Electronica productions. There is always an element of surprise in their work, which they hope will keep their music intriguing. Look out for much more to come, and a bright and bold future as Circle of Funk continue to move forward, bringing innovation, vibrancy and ingenuity to the dance music arena.
Lifford Shillingford has lent his musical and vocal skills to many projects from the early days of Public Demand on ZTT and touring with the likes of Gabrielle and East 17, to writing and tutoring a number of artists including The Sugababes; and not forgetting his performance on the massive garage anthem 'Please Don't Turn Me On' with the Artful Dodger. Other successful collaborations include 'What Do You Do' an atmospheric drum and bass vocal track with Grooverider and many house releases the likes of Nervous Records, Restless Soul, 2 Tuff 4 U, Fecktive Records, Soundmen On Wax, Open Bar Music, Slapped Up Soul and Soul Kandi.
Natasha Watts is currently one of the most talked about soul singers in the UK, oozing with raw talent and scooping New UK Soul Act at the Soul Survivors Awards this year, Natasha is in demand more than ever for her vocal talents and vivacious on stage presence. She's worked with Josh Milan, Papa Records, Reel People, Bugz In The Attic's Kaidi Tathum, Speedometer, Purple Music, Nervous, Barcoda, Yam Who? and many more. The exciting launch of her new album in September, has already three number ones, including Go Slow' (Christmas no.1 on the UK Soul Chart) 'Back 2 U' and 'Born A Star'. There are also future collaborations in the pipeline with some of the biggest names in house music, including Kerri Chandler, Dawn Tallman Manoo, Black Coffee, Tribe, Tony Humphries, Rhemi, Marc Evans and Michelle Weeks.
Wipe The Needle is an international collaboration between Swedish born Mikael Nybom and UK based Lee Gomez. Their work has graced labels such as Defected, 4th Floor, Restless Soul, Deeply Rooted House, Raw Fusion, Groove Odyssey, Solid Ground, Broadcite, Slip n Slide and Soundmen on Wax, among others. They have been prolific in their productions, working with artists such as Lifford Shillingford, Michael Proctor, Eddie Stockley, CT Martin, Gary Bardouille, Pauline Henry, Michelle Weekes, Tshaka Campbell and Foremost Poets.
TRACK LISTING
1 Double Trouble – COF Vocal Mix
2 Double Trouble – COF More Trouble Mix
3 Double Trouble – Wipe The Needle Remix
4 Double Trouble – Wipe The Needle Dub
5 Double Trouble – COF More Trouble Radio Mix
6 Double Trouble – COF Instrumental Mix
7 Double Trouble – Wipe The Needle Instrumental Remix
'Double Trouble' will be released on Slapped Up Soul on Traxsource promo December 16th 2013 / Full release Jan 13th 2014.