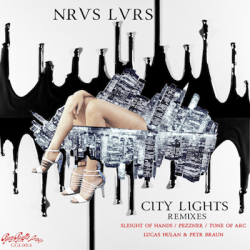 NRVS LVRS - City Lights Remixes
Green Gorilla Lounge returns to the fray with a top tier set of remixes of "City Lights", a cool song by acclaimed San Francisco-based indie band NRVS LVRS. "City Lights" was the first single off The Golden West, NRVS LVRS's debut album released earlier this year. The powers-that-be at Green Gorilla headquarters fell in love with the song and quickly envisioned a plan for more dance floor-oriented interpretations. Fellow conspirators Sleight of Hands, Pezzner, Tone of Arc, and the duo of Lucas Hulan & Petr Braun were enlisted, and this outstanding release is the result.
GGL's in-house heroes Sleight of Hands – made up of DJ M3 and Phil Collis – provide the first version, which is filled with big stomping beats and dirty bass lines and utilizes the original's vocal in a particularly moody manner. This one's a late night monster. Seattle's Pezzner (Freerange, Systematic) is up next, and his remix will certainly satisfy all the Pezz-heads out there. Pezzner's main mix and dub both feature the creative rhythmic high jinks and clearly produced sonics that this masterful tunesmith is known for. Tone of Arc, a quickly rising project formed by Derrick Boyd AKA Dead Seal, delivers a cinematic treatment peppered with distinctive sound design moments and cavernous percussion blasts over its entrancing deep house foundation. Czech producers Lucas Hulan & Petr Braun (Nightphunk Recordings) then close things out with a shimmering rework that samples and manipulates the vocal while it provides spaced-out aural scenery for the dance floor.