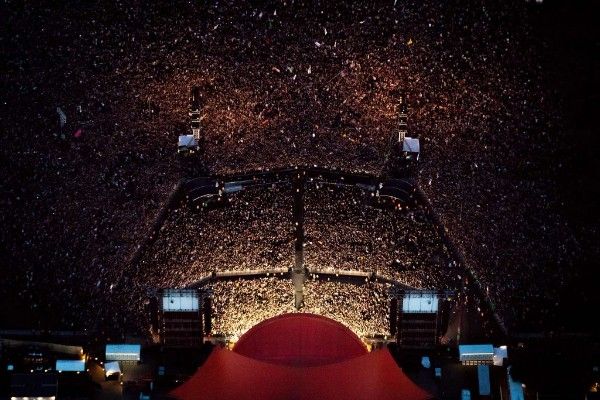 Roskilde Announce Final Names & Festival Schedule 
The music programme at Northern Europe's largest festival will consist of 186 shows on 8 unique stages. The line-up offers acts such as Eminem, Nick Cave & The Bad Seeds, Gorillaz, Massive Attack, Dua Lipa, Bruno Mars, St. Vincent and many more.
13 acts have been added today, completing the schedule for all music stages.
Canadian superstar in the making
Having penned Rihanna's massive hit 'Work' back in 2016, 24-year-old Jahon Anthony Brathwaite firmly cemented his talent as a songwriter. Under thePartyNextDoor moniker he is a superstar in the making with his mastery of cool and disillusioned R&B, not unlike fellow Canadians The Weeknd and Drake.
The latter has signed PartyNextDoor to his record label OVO Sound and features on the Grammy-nominated hit 'Come and See Me'.
Experienced acts and emerging talents
Charismatic The Strokes guitarist Albert Hammond Jr, dreamy indie trioBlonde Redhead and influential hardcore rockers Madball are also among the last announcements for the non-profit festival.
They will be joined by stars of tomorrow Courtney Marie Andrews, Haley Heynderickx, Marlon Williams and RVG, all curated by the Roskilde Festival bookers after powerful performances at SXSW.
Head of Programme Anders Wahrén says:
"PartyNextDoor has the potential to reach the heights of icons such as Drake and The Weeknd, and it's a great feeling to be able to present him at Roskilde Festival on the verge of his big breakthrough."
"We presented our line-up earlier in the spring, but we've kept a few slots open to be able to present new artists making waves in 2018. Having seen acts such as Courtney Marie Andrews, Haley Heynderickx, Marlon Williams and RVG at SXSW a few weeks ago, we simply had to invite them to play Roskilde Festival."
This means a total of 186 acts are ready to play Roskilde Festival 2018. With the full music schedule out, festival-goers can start planning their journey through both headliners, niche acts and the stars of tomorrow.
See the full schedule.
These are the 13 acts announced for Roskilde Festival 2018 today:
PartyNextDoor (CA)
Albert Hammond Jr (US)
Blonde Redhead (US)
Courtney Marie Andrews (US)
Debonair (Resident DJ) (UK)
Haley Heynderickx (US)
Indika (Resident DJ) (UK)
Madball (US)
Marlon Williams (NZ)
Mavi Phoenix (AT)
Pernille (Resident DJ) (DK)
RVG (AU)
Steffi (DE)
Explore the line-up and schedule on roskilde-festival.dk.
The full arts programme will be out in the spring.
Roskilde Festival 2018 lasts a full 8 days and takes place from Saturday 30 June to Saturday 7 July.
Tickets are on sale on www.roskilde-festival.dk.