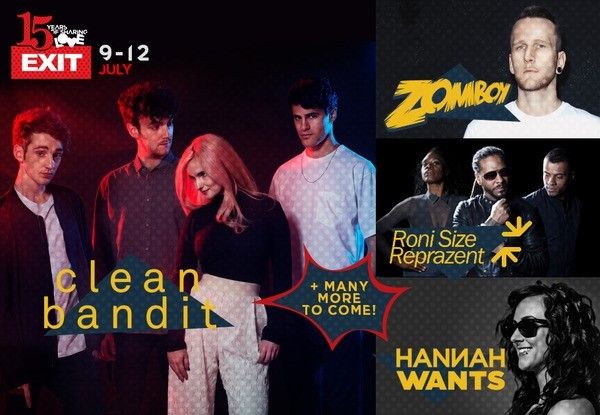 Clean Bandit and Roni Size Celebrate 15 Years of EXIT Festival
Hot on the heels of their Grammy award win for Best Dance Recording for their summer anthem "Rather Be" Clean Bandit are set to perform on the Main Stage at Exit Festival on 9th July. Joining them will be drum'n'bass icon Roni Size, one of the festival's "musical founders", who will perform live with the Reprazent supergroup as part of the X Bass line up in collaboration with the global music brand UKF. On 12th July new dubstep hero Zomboy will continue raising the bar, set high by Skrillex last year and the after-midnight Main Stage program will be pumped up by one of the leading dames of bass music – Hannah Wants.
Clean Bandit made their debut with the "A+E" single in 2012, reaching the symbolic 100th spot at the UK singles chart, followed next year by the release "Mozart's House" that skyrocketed amongst the top 20! The song "Rather Be" catapulted this Cambridge quartet into stardom, and is officially one of the ten biggest global and the biggest European hit last year with video that counts over 220 million views on YouTube! Being among the top 5 most Shazamed songs of all times, adding figures from Spotify, Deezer, Napster and Google Play made it officially the most-streamed song in 2014, in front of Pharrell's "Happy" and Sam Smith's "Stay With Me"! This multi-platinum success is attributed to the seductive vocals by Jess Glynne, who also sings on their newest hit single "Real Love" and its video created by fans, who sent the band clips of themselves kissing. Other critically-acclaimed chart breakers from the album "New Eyes" include "Dust Clears", "Extraordinary" and "Come Over", which have all become choir-singing baits at the biggest festivals like Glastonbury or Reading. After winning Grammy ahead of favoured Disclosure & Mary J. Blige, Clean Bandit are now looking into the BRIT awards where they are nominated for best British band – competing head to head with Coldplay, proving why they made it to the top of Exit fans' recent wish list.
It all came together for the festival's 15th anniversary with one of its trademark symbols and first ambassadors of Exit in the world – the monumental Roni Size! The first night of the festival will be adorned by the recently reunited Reprazent, on the cusp of their new album, the first one after 15 years. These signs are far from coincidental and are more than plenty for a historical event at the fortress. Lead by Roni, the music doyens Dynamite MC, Onalee, Si John, Dave Amso, Jay Vilcox and Danny Cox, will mix creativity once more in one of the most influential electronic groups of all time. Their performance pinged for the fortress is best announced by the album title "Do it for the Masses"!
This year's X-bass programme continues to reel in the hottest names. After Skrillex, the young producer and DJ Zomboy is the next essential addition to Exit. Millions of fans on social networks cemented his prodigal status after the debut of "The Outbreak". This 25-year-old party-maker from England began his overseas invasion by playing from Argentina to Hollywood. Before he blasts the Petrovaradin Fortress with the freshest bass set accompanied by spectacular visual effects, Zomboy sails to a new pan-American raids, warming up for his premiere show at Exit.
With her BBC Radio 1 residency, regular sets at the Amnesia in Ibiza within "Together" club-night by Chase & Status and the planetary dance hit "Rhymes", Hannah Wants is the leading lady of bass music today. "What Hannah Wants" as her tour title seeks to find out, will be answered on the 12th July, at the traditional X-Bass takeover of Exit's Main Stage.
Watch the EXIT Adventure 2014 Aftermovie here….


Tickets for Exit Festival are available from 89£ (122€) +b/f, and for Sea Dance Festival at 49£ (59€) +b/f. The unique ticket for 10 days of Exit Adventure, from Serbia to Montenegro, is available for £105 (145€) +b/f at www.exitfest.org. Additional packages including travel and accommodation can be found at www.exittrip.org.
Camping tickets can be purchased at the price of £25+b/f / €30+b/f for EXIT camp and £25+b/f / €30+b/f for SEA DANCE camp. The EXIT camping site will be open 7th-14th July, while Sea Dance Festival camping site will be open 13th-20th July.
Buy tickets here: www.exitfest.org/en/worldwide