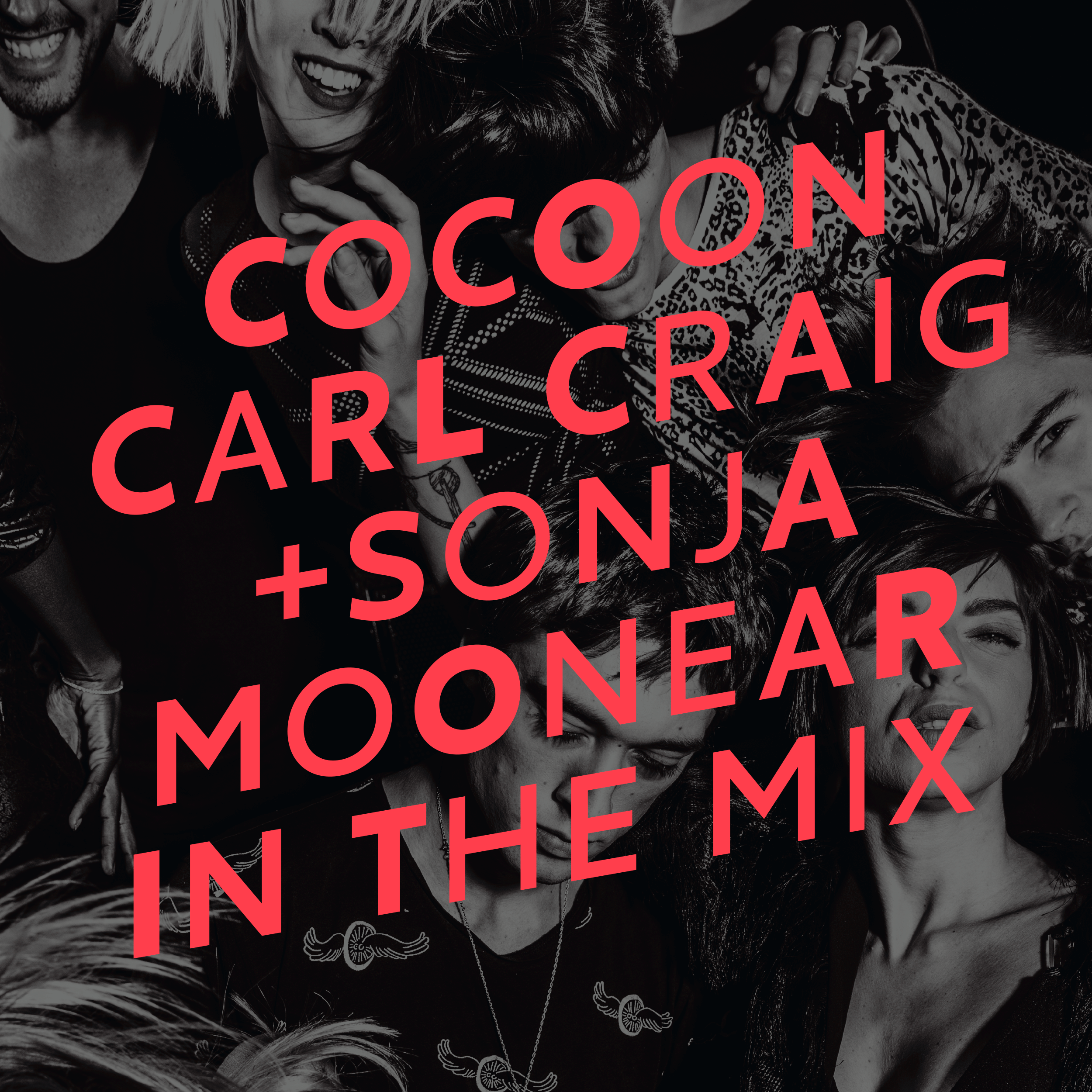 Various Artists - Cocoon ibiza mixed by Carl Craig & Sonja Moonear
It is the time of year when Sven Vath's Cocoon stamps its authority on the techno world with the latest releases of its various compilations. Next up is a truly benchmark effort in the Cocoon Ibiza series from the legendary Detroit pioneer that is Carl Craig next to contemporary Swiss heroine, Sonja Moonear.
Taking care of CD1 is Carl Craig. A second wave techno pioneer and head of the cult Planet E empire, Craig is synonymous with soul infused sounds, smooth and slick rhythms and tantalising Dj sets that are overflowing with emotion. Decades after starting out he is still as revered as ever, and for good reason.
With his mix the Maestro selects fantastic tracks from fellow legends like DJ Pierre (remixed by Ricardo Villalobos), Luciano (remixed by Dennis Ferrer), DJ Deep and Agoria. Craig then creates a perfect journey with these fine component parts and marries power and deepness from start to finish. It makes for a high class techno trip with ravey excursions that feature his exclusive C2 intro edit of Luca Ballerini's 'Impressions Of A Dawn' as well as two more of his remixes of Nicole Moudaber and Agoria that help add yet more class to the overall affair.
CD2 comes from Swiss artist Sonja Moonear, who is first and foremost a DJ. Her sound is rooted in minimalism; slick, stripped back house and techno that is masterfully lean yet also compelling. Her sets are always hugely rhythmic and seductive affairs whether operating at the moody or more vibrant end of the spectrum. Zip is a fan, which tells you all you need to know, if you didn't already.
Whilst her selections start deep and housey with the likes of Franck Roger, Brett Johnson, Elbee Bad and Alex Under, her mix develops pretty soon into a freaky and technoid sound that beams you straight back to Cocoon's legendary Monday night event at Amnesia. Also included are some all time Cocoon favorites by John Tejada and Ricardo Villalobos (together with Argenis Brito) and the result is a slinky and seductive mix that makes a big impact in truly subversive ways.
This excellent latest instalment in the famous Cocoon Ibiza series is sure to be one of the most enduring yet.
Press contact – [email protected]
Tracklist:
CD 1
1. Luca Ballerini – Impressions Of A Dawn (Alba In 4/4) – (C2 Intro Edit)
2. DJ Pierre – What Is House Muzik (Ricardo Villalobos What Is Remix)
3. Luciano – 7 Directions (Dennis Ferrer Drum Mix)
4. Publicist – Spread It Around
5. DJ Deep – Surge
6. Mark Fancuilli – Can You Translate
7. Mark Broom – Decay
8. Floorplan – Push On
9. Adventice – Chop Chop
10. Nicole Moudaber & Skin – Someone Like You (C2 Remix)
11. Oxia – Domino
12. Joao Ceser – 5th Dimension
13. Chymera – Episode
14. Luca Ballerini – Impressions Of A Dawn (Alba In 4/4)
15. Agoria – Speechless (C2 Remix)
CD 2
1. Elbee Bad – New Age House
2. Ralphi Rosario's Energy Factor – Music, Music (The I Humped Mix)
3. Brett Johnson & Cpen – You Got Me Going Crazy (Berlin Dub)
4. Franck Roger & D'julz – Dubwize
5. DKMA – Creepin
6. The Mingers – Emancipation (The Mingers Button Dub)
7. Plastic – Translated Translations Translated
8. Alex Under – Gris
9. The Wise Caucasian – Darkside
10. The Persuader – Vattungarna
11. Jonsson/Alter – Djup House (Dorisburg Remix)
12. XDB – Gate
13. Anthony Parasole – Wild Life
14. John Tejada – Fourier Transform
15. Alex Piccone – M9
16. Andy Rantzen – 98%
17. Ricardo Villalobos & Argenis Brito – Amnesia