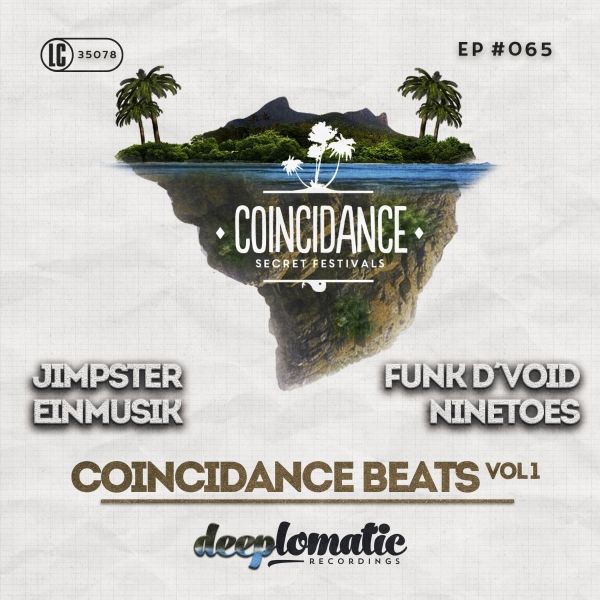 Various Artists - Coincidance Beats Vol. 1
Coincidance meets Deeplomatic to release its first compilation album with Jimpster, Einmusik, Funk D´Void and Ninetoes
Coincidance Secret Festivals meets Deeplomatic to release the first Coincidance compilation album: "Coincidance Beats Vol 1", first volume of a compilation series gathering top-notch artists from the Coincidance boutique events in some of the most unique locations in the world.
Coincidance Beats Vol 1 includes four exclusive Deep House tracks from Jimpster, Einmusik, Funk D'Void & Ninetoes released on Deeplomatic Recordings.
"English Rose" from Jimpster kicks off the EP in fine style, a sense of anticipation pervades as the chunkiest of disco breaks drive the track, hazy vocal pads occasionally piercing the layers of spinning echoes. Up next we have Einmusik with "Glimmer", a deep house masterpiece with a hypnotizing melody that just keeps playing over and over in your head. The third track is brought to us by Funk D´Void, "Homage" it's a perfect blend of deep house sounds, groovy with a taste of funk, perfect for all those hot summer nights. Ninetoes finishes off the EP with "Trouble" bringing his unique brand of muscular low end bass lines towards killer swinging grooves and crisp jacking snares.
Tracklist:
1. Jimpster – English Rose (Original Mix)
2. Einmusik – Glimmer (Original Mix)
3. Funk D´Void – Homage (Original Mix)
4. Ninetoes – Trouble (Original Mix)
Release date: 20/06/2016
Genre: Deep House
Label: Deeplomatic Recordings

Website: www.deeplomatic.com
Soundcloud: https://soundcloud.com/deeplomaticrec
Facebook: https://www.facebook.com/deeplomaticrec
Twitter: https://twitter.com/deeplomaticrec