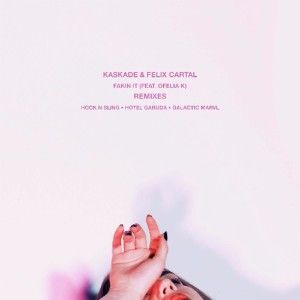 Kaskade & Felix Cartal - Fakin It feat Ofelia K (remixes)
Multi Grammy® nominated world-renowned singer, songwriter, and music producer Kaskade teamed up with Canadian electronic music producer and DJ Felix Cartal earlier this summer to create 'Fakin It', a mellow, summery track featuring live piano and guitar samples alongside the seductive vocals of Ofelia K. Now, 'Fakin It' has been treated to no less than three remixes, which will be released as a package on the 24th June.
The first producer to remix the track is popular Australian beat maker Hook N Sling. His version preserves the feel and emotion of the original, adding extra drums and a series of powerful drops.
Next up is Indonesian duo Hotel Garuda, a pairing who have quickly become go-to remixers amongst dance music heavyweights. Their take on 'Fakin It' utilises the song structure of the original over a smooth house beat and melodic chords.
Elusive producer Galactic Marvl rounds off the remix package with a bass-heavy remix full of summery chords and cleverly chopped vocals.
Kaskade's fame shows no sign of letting up globally – he was recently inducted into Pete Tong's Hall of Fame, and sold out London's The Steelyard on his most recent UK date. 'Fakin It' was first premiered in the UK when Kaskade went back to back with Danny Howard on his primetime Dance Anthems slot on BBC Radio 1.
Arkade/Parlophone released Kaskade's heralded ninth album Automatic on September 25, 2015.
ABOUT KASKADE
Grammy nominated American recording artist, DJ, and producer Kaskade has remained at the forefront of the dance music world for more than a decade. Creating a career of unprecedented milestones, Kaskade is the first U.S. DJ to secure a Las Vegas residency, the first solo electronic dance artist to sell-out Barclays Center, as well as the first dance artist to sell-out Navy Pier and the Staples Center. Just as comfortable playing packed clubs deep into the night as he is headlining the major festivals around the world, 2015 marked Kaskade's return to the iconic two-weekend Coachella Valley Music and Arts Festival, where his main stage appearance drew the two largest crowds in the storied sixteen-year existence of the festival. Taking nothing away from his legendary live shows, Kaskade has always maintained that it's the songwriting that comes first, and his nine artist albums and five Grammy nominations back up that claim. Kaskade's latest album Automatic was released in Fall of 2015 and has been streamed over 44.4M times on Spotify since release.
ABOUT FELIX CARTAL
Vancouver native Felix Cartal has come a long way in the last few years. A relentless touring schedule and tireless work ethic have led to his continued rise as one of dance music's premier producers. Never content to reproduce the same sound, his artistic evolution has resulted in a unique style defined by memorable melodies, beautiful vocals, and driving bass. 2016 has seen the release of multiple remixes by Felix, all of which have topped the Hype Machine charts, including Kiiara's "Feels" and Wafia's "Heartburn". The JUNO nominated artist has performed on the stages of Tomorrowland, EDC, Electric Zoo, and HARD, as well as clubs around the world.
For more information on Kaskade, please visit
http://www.kaskademusic.com/
https://www.facebook.com/kaskade/
https://twitter.com/kaskade
https://soundcloud.com/kaskade