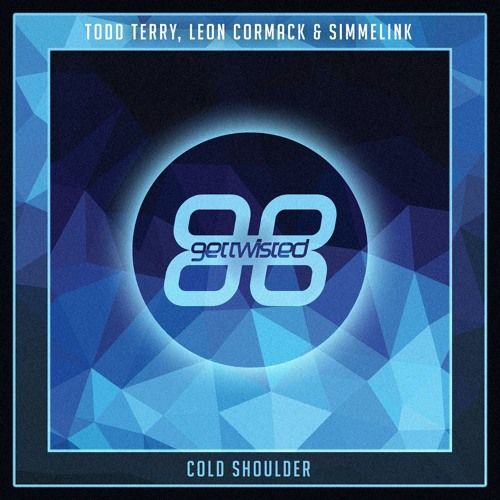 Todd Terry, Leon Cormack & Simmelink - Cold Shoulder
Get Twisted Records has joined forces with a true legend of house music, Todd Terry, on 'Cold Shoulder', a collaboration with the talented Leon Cormack & Simmelink.
'Cold Shoulder' is a supremely catchy melodic house anthem that's sure to go off on peak-time dance-floors and be one of the hits of the summer.
Brooklyn-born Grammy Award nominated DJ/Producer Todd Terry needs little introduction. As one of the most celebrated figures in dance music and with a career spanning nearly three decades, he has worked with a diverse range of musical talent, from Snap! to Annie Lennox, The Rolling Stones to Bjork.
Todd Terry achieved two huge Top 10 crossover hits in the 90s through 'Keep on Jumpin' and 'Somethin Going On', whilst all the while continuing to break new ground with his remix and in 1995 his remix of Everything But The Girl's 'Missing' became a worldwide smash. In 2007 he created the Todd Terry All Stars bringing together Kenny Dope, DJ Sneak and Terry Hunter releasing 'Get Down'.
English producer Leon Cormack and Dutch-Spanish producer Archip Simmelink have been working together as duo Cormack & Simmelink for the past three years, delivering uplifting vocal house cuts including 'All Eyes on Me' and 'Change Your Life'.
Get Twisted has gone from strength to strength, having signed an imprint deal with Columbia Records in 2015. Owned by the acclaimed London-based duo Tough Love's Alex and Stef, Get Twisted's unique sound of bass infused house cuts mixed with R&B, 90s dance and garage has made the label a force to be reckoned with.
Get Twisted's growing roster of talent includes Roger Sanchez, Todd Terry, Sandy Riviera, Amine Edge & DANCE, and Hannah Wants, alongside up and coming talent AS I AM, Litek, Newbie Nerdz, Jaded, and Midnight City.
Social Media links
Todd Terry:
www.soundcloud.com/todd-terry-inhouserecords
www.youtube.com/user/djtoddterry
www.facebook.com/djtoddterry
www.twitter.com/djtoddterry
Cormack & Simmelink:
www.facebook.com/cormacksimmelink
https://www.youtube.com/user/cormacksimmelink
www.soundcloud.com/leon-cormack-dj-producer
https://soundcloud.com/archip-simmelink-1
www.twitter.com/leoncormack
www.twitter.com/ArchipSimmelink
Get Twisted:
www.gettwistedrecords.com
www.soundcloud.com/gettwistedrecords
www.facebook.com/gettwistedrecords
www.twitter.com/gettwistedrecs
www.youtube.com/gettwistedrecords