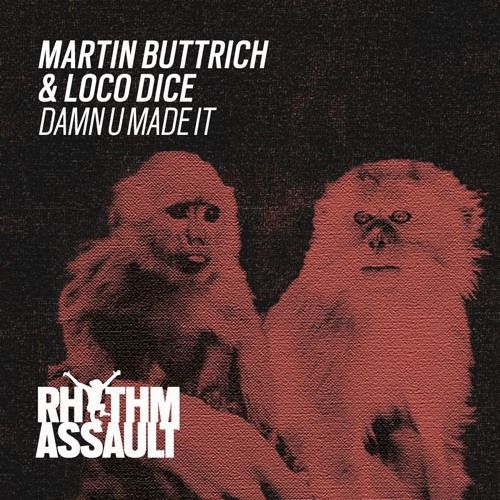 Martin Buttrich - Collaborator 005 EP
Martin Buttrich has one again joined forces with two of his longtime friends and collaborators, Loco Dice and Timo Maas. The RA005 EP features two collaborative tracks between Martin and each producer, and is out now on Rhythm Assault. With Loco Dice and Timo Maas each representing pivotal moment's in Martin's career to date, this is a landmark release for the producer and his Collaborator project.
The Collaborator project is a way for Martin – a renowned engineer and producer – to showcase his social way of working alongside the artists and friends he admires. The Rhythm Assault label means he can release these collaborations at will without the pressures of fitting into a particular imprint. This EP will be the label and the project's fifth release, after the huge 'Perpetual' alongside DJ Tennis, 'Synchronicity' with Mathew Jonson, 'Evita' with Ramon Tapia and 'New Game' with Guti.
Loco Dice and Martin Buttrich have maintained their musical partnership for over ten years. Building up an era-defining discography in the early 2000s and living in New York together in 2006/7, the pair launched Desolat together in 2007 and haven't looked back since – the label is now one of the most respected and prolific of its kind. 'Damn U Made It' showcases both producer's sounds in 2016 to full effect. A hefty low end underpins distorted snippets of vocal samples and a repeated mechanical melody for a grooving, peak-time track to fit into either artist's sets.
Timo Maas and Buttrich's collaboration on the EP, 'Nach Acht', is a future classic bearing the hallmarks of both producer's characteristic styles. Layers of sound build up in waves, with bubbling arpeggios and expressive chords coming together over a subtle bassline for an ever-evolving track made for the 'floor. Timo Maas and Martin go back as far as the mid-nineties, where they both worked at Peppermint Jam distribution. Their partnership has seen over 100 co-productions and remixes that included Madonna, Muse, Fatboy Slim and Josh Wink, even entering the UK top 10 with their remix of 'Dooms Night' by Azzido Da Bass and receiving a Grammy nomination in 2004 for their remix of Tori Amos's 'Don't Make Me Come To Vegas'.
The RA005 EP is a strong offering showcasing three exceptionally talented artists at the top of their game. Perfectly tying the trio's collective backgrounds in one neat offering, this is a standout release for Martin Buttrich and his Rhythm Assault label.
Tracklist
01. Martin Buttrich & Loco Dice – Damn U Made It
02. Martin Buttrich & Timo Maas – Nach Acht
About Martin Buttrich
Revered in the industry for his technical ability and creative vision, Martin Buttrich began his journey into electronic music in the clubs of Berlin at the dawn of the 90s. After first trying his hand at production at the age of 18, Martin began writing and producing for the likes of Timo Maas and Loco Dice, going on to cofound the now world renowned Desolat label with the latter in 2007. A skilled DJ, Martin frequently performs with respected underground promoters Circo Loco in Ibiza and beyond, as well as across the world at the likes of Berghain/Panoramabar in his native Germany, fabric in London, Womb in Tokyo, and Warung Beach Club in Brazil amongst many more. He began a new chapter in his career towards the end of last year, with the launch of his own solo label Rhythm Assault; the Collaborator series is just the start of this exciting new project.
For more information on Martin Buttrich, please visit
https://www.facebook.com/martinbuttrich/
https://twitter.com/martinbuttrich
https://soundcloud.com/martin-buttrich