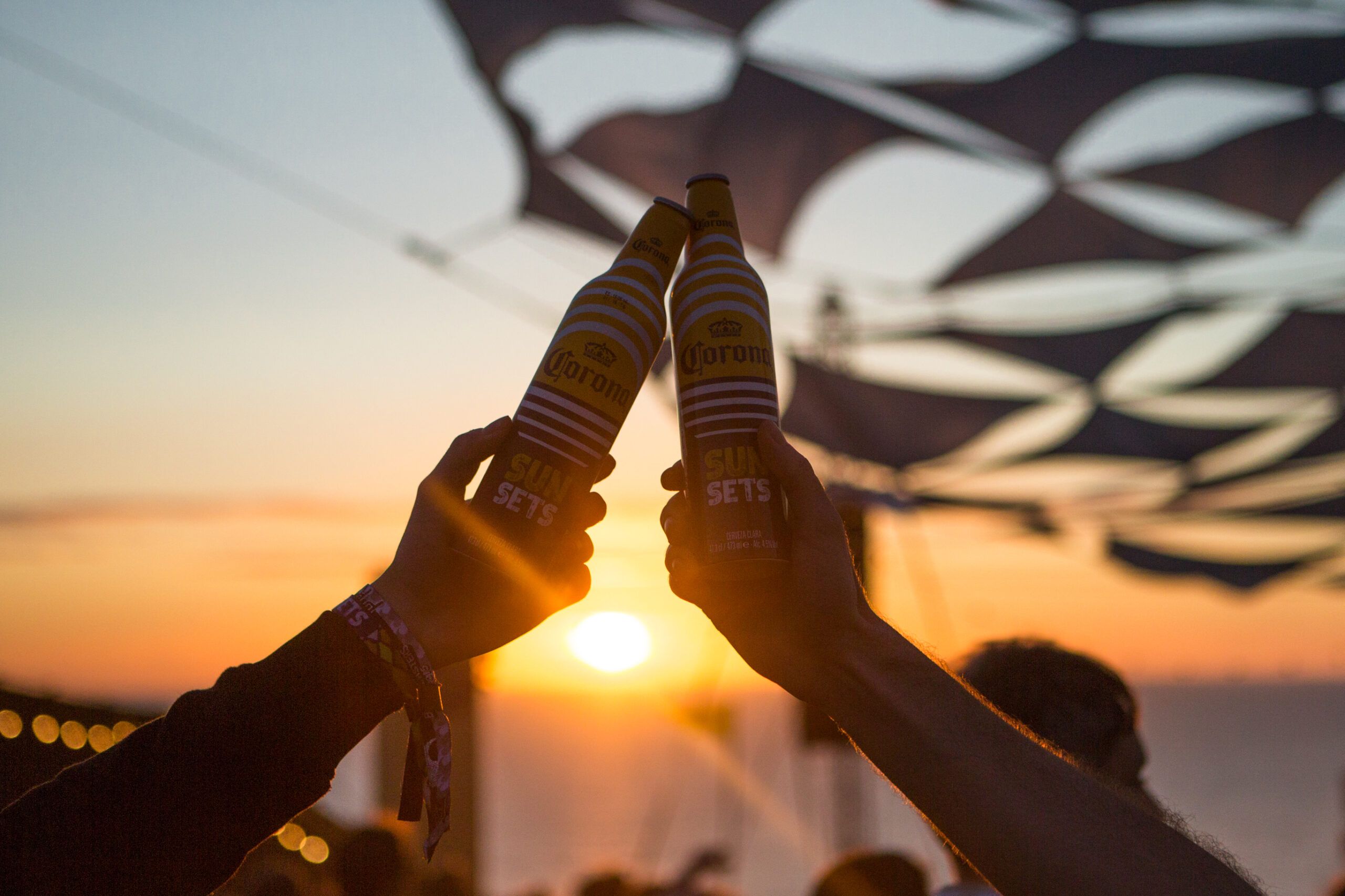 Corona ignites the coastline at this year's Boardmasters Festival
World class headliners include Greg Wilson, Crazy P Soundsystem and Horse Meat Disco
This summer, Corona is once again bringing it's incredible SunSets stage to the Cornish coast for this year's Boardmasters Festival – igniting the coastline with three days of live music, DJ sets and an array of sunset experiences from the 10th-14th of August. Some of the world's freshest DJs and music pioneers, including Crazy P Soundsystem, Horse Meat Disco and Greg Wilson will headline across the five days, bringing the SunSet moment to life for festival goers.
Boardmasters is the third major festival for Corona UK this summer, and will see over 150,000 festivalgoers hitting the coast to celebrate the surf, sun and sand across the five-day festival, located in the surfing mecca of the UK. Boasting some of the best music and sports action, Boardmasters has a huge selection of activities across Fistral Beach and Watergate Bay, providing guests with the perfect weekend getaway.
The Corona SunSets stage will combine chilled beach tunes, upbeat melodic, and deep house music, bringing to life the magical moment of sunset through music. Alongside the likes of Crazy P Soundsystem and Greg Wilson, Ibiza veteran Mr Doris and a sensational line up of world-class house and electronic DJs will be gracing the Corona stage including Ekkah, Jordan Rakei and Rosie Lowe.
To accompany the Corona SunSets experience, festival goers will also be able to experience a transformation through an array of activities including; eclectic musical performances, sunset rituals, beach games, local merchants selling handmade items and tribal body painting, initiating guests into the SunSets tribe and immersing them in the experience of a sunset from day to night.
Andrew Milford, Brand Manager at Corona said: "We can't wait to head back to Cornwall this year to grace the Cornish coastline with our SunSets experience. We believe our partnership with Boardmasters is the perfect fit as we are both inspired by a shared desire to create truly unique and inspiring experiences for festival goers, motivating music fans to get outside and enjoy more of the moments that matter."
Boardmasters forms part of Corona's Global SunSets Series, with the brand creating transformational music moments across the country this summer that encourage fans to enjoy more of the moments in life that really matter. The series will hit a variety of outdoor music events and intimate gigs over the next few months, including this year's Global Corona SunSets Festival which took place in London on 30th July. The festival transformed Greenwich Peninsula into a beach haven for music fans across the country, featuring an incredible line-up of world-class acts including Robin Schulz, Felix Jaehn, Crazy P Soundsystem, Norman Jay MBE and Nightmares on Wax, just to name a few.
For more details on Boardmasters and to buy tickets, visit http://www.boardmasters.co.uk/ and for more information on the Corona SunSets festival, visit www.CoronaSunSets.com 18+.
Share your experience with #CoronaSunSets and #ThisIsLiving @CoronaUK
– Ends –
About Corona
Corona is the leading beer brand in Mexico, the 6th most valuable beer brand in the world*, and the most popular Mexican beer worldwide, with sales in more than 120 countries. Corona Extra was first brewed in 1925 at the Cervecería Modelo in Mexico City. Ten years after its launch, Corona became the best-selling beer in Mexico, and today continues to stand for Mexican pride around the world.
* SOURCE: 2015 BrandZ™ Top 100 Most Valuable Global Brands
Notes to Editor
About Boardmasters
Established in 1981, Boardmasters is a 5-day event situated across two stunning locations in Cornwall, Fistral Beach where Boardmasters famous International Surf Competitions take place and arguably the most stunning location in the country to watch live music, Watergate Bay. Last year saw Boardmasters welcome over 150,000 festivalgoers across its two sites over the 5 days of the festival. Boardmasters operates a tiered ticket system with price bands for tickets changing over time. The sooner you buy, the cheaper it is. Book tickets via the website.
Twitter: www.twitter.com/CoronaUK
YouTube: www.youtube.com/user/CoronaExtra
Facebook: www.facebook.com/Corona
Contact
For more information contact Allie or Inderdeep at 3 Monkeys Zeno at [email protected] or 020 7009 3100