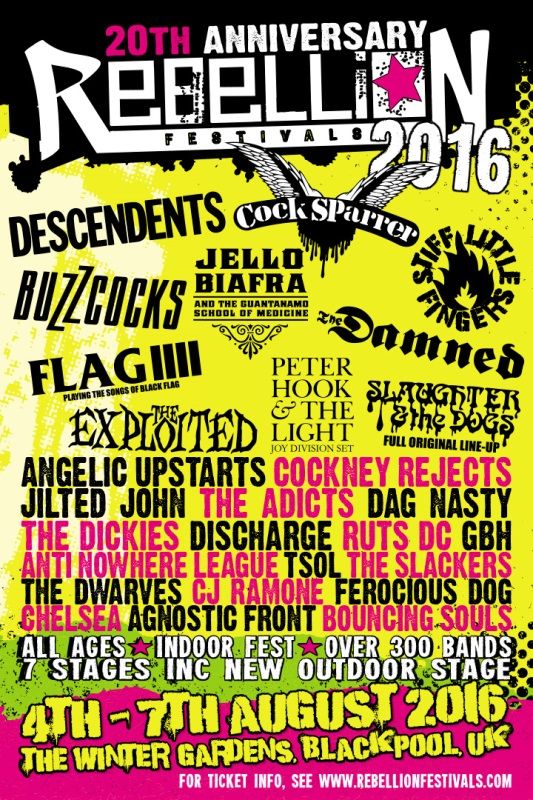 Rebellion Festival confirm first acts for 2017
Marking its 20th anniversary, and 40 years since the initial punk explosion in 1976, this past weekend saw Rebellion Festival celebrate its first totally sold-out year at full capacity, welcoming approximately 10,000 people into four days and seven stages-full of the very best in punk rock.
A total 357 performances comprised of bands, acoustic sets, poets and speakers added up to a deafening sum of 52 hours 55 mins of music across the festival. Highlights include the Descendents headlining opening night with their only UK show of the year, hugely influential Manchester pre-punk band Slaughter & The Dogs performing with their original line-up, including a tribute to David Bowie, Dischord Records' Dag Nasty making their long-awaited UK festival debut, and paying their respects to The Ruts with a cover of 'Staring At The Rudeboys', who followed under their Ruts DC guise performing both stunning acoustic and electric sets. Peter Hook and The Light packed the Opera House stage to capacity with their Joy Division tribute, whilst sets from Cock Sparrer, FLAG, The Damned, Buzzcocks, Jello Biafra with his Guantanamo School Of Medicine, a very special closing performance from the Stiff Little Fingers, and so many more legendary acts all stunned.
The organisers of Rebellion have little time to reflect on the success of 2016 as next year's event is already on sale and booking is underway. They have been overwhelmed by the response from both fans and bands alike with compliments about how amazing this year was, and realise this special anniversary will be hard to top. However, catching up with them they said "we already have some big names on our 'wish list' for 2017 and have no intention of slowing down. We want to take the things that worked this year and tweak and improve them to keep Rebellion as THE punk festival to go to. We're still a 100% family run, DIY festival so there's a lot of work ahead but it's what we do and seeing the smile on everyone's faces this year makes it all worthwhile".
A limited number of 500 tickets for next years' event were on sale at the box office this past weekend and all have been sold. Now early bird tickets for Rebellion 2017 are available to pre-order online here for £145, with a pay-monthly offer also launching on September 1st, enabling fans to purchase their weekend ticket over instalments of £15 per month for a deposit of £18.
Rebellion Festival will return to Blackpool Winter Gardens on August 3rd – 6th 2017. The first names announced for the 2017 line-up include: Sham 69, Zero Boys, Dirtbox Disco, The Creepshow, Sheer Terror, Last Resort, Fire Exit, Bollweevils, External Menace, Splodgenessabounds, Guitar Gangsters, Spunk Volcano & The Eruptions, Sidekick, Anger Flares and Anti Social (USA).
Find more information online at:

Website: www.rebellionfestivals.com
Twitter: @rebellionfest
Facebook: www.facebook.com/RebellionPunkMuskFestival