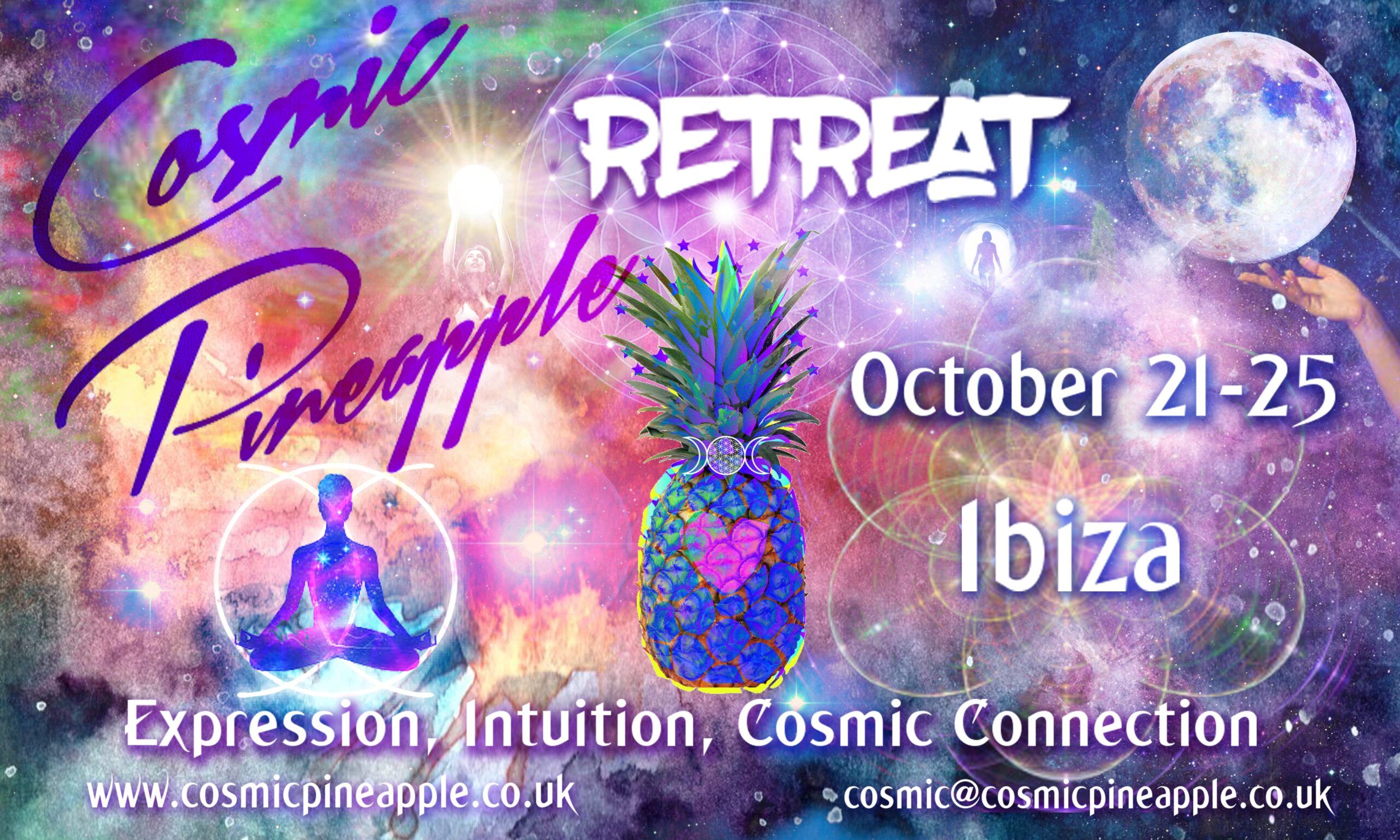 Cosmic Pineapple – Ibiza retreat – October 21-25
Following from a four-part event series at Pikes, Ibiza, Cosmic Pineapple completes the journey of the seven chakras with a four-night retreat in the north of the island. Come join us from October 21st-25th to explore, balance and heal the higher three energy centres, whilst also connecting to the energy of the full moon.
We begin on the evening of October 21st and have three full days leading to a magical full moon ceremony on the evening of the 24th, with integration and check out on the 25th. Our intention is for you to leave this retreat with a heightened vibration, feeling more connected, open and trusting in the magic of life, grounded in the present moment and focused for your cosmic new beginnings.
Overview of Cosmic intentions:
Through yoga, meditation, ceremony, connection exercises, sound journeys, lovingly prepared organic vegan food and drink from Crumble Food, mantra, creativity and workshops, we will work creatively through the energies of the below. With something extra special planned for the full moon! The beautiful retreat house is set in the north of the island with both inside and outdoor yoga spaces, a library, lots of cosy hide holes and is close to beaches and nature walks.
Sample day:
8.30 – 10.00 Morning yoga
10.00 – 11.00 Breakfast
11.30 – 12.30 Workshop, creative class or meditation focusing on the energetic intention of the day
1.00 – 2.00 Lunch
2.00 – 6.30 Free time to relax/ explore the location / therapies
6.30 – 8.00 Evening yoga class / movement or ceremony
8.00 – 9.30 Dinner
—
October 21 – Afternoon arrival / evening class
Connecting and grounding in preparation for the retreat.
—
October 22nd – The Throat chakra – EXPRESSION
Connect to your truth. Expression. Creativity. Inspiration. Clear communication. Sound and vibration. Breath. Telepathy. Peace. Gentleness. Wisdom.
[12931906 – the throat chakra]
—
23rd October – Third Eye chakra – INTUITION
Connection to your inner knowing and intuitive self. Imagination. Meditation. Dreams. Psychic knowing. Creative visualisation. Devotion. Cacao ceremony.
[Unknown]
—
24th October – Crown chakra – COSMIC CONNECTION – FULL MOON
Activate spirit essence. Pineal gland. Divine magic. Vision. Cosmic energy. Higher forces of universe. Purification of subtle bodies. Integration. Selfless service. Liberation of self. Unity. Full moon ceremony.
[Unknown-1]
—
25th October – Morning yoga, breakfast and integration. Check out @ 11am.
—
Costs
We have two rooms available in-house (one double and one twin) and a few spaces available for Ibiza residents to attend the retreat. Click here to see what is available and please email [email protected] to find out more.
*Price includes full board and all meals for the week – flights not included.
Cosmic Pineapple Retreat
October 21st – 25th (check in 3pm / check out 11am on the 25th)
Enquire for prices and more: [email protected]