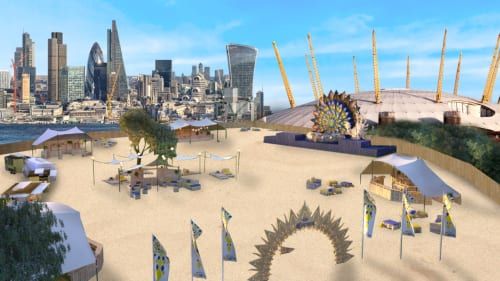 Countdown begins for epic Corona SunSets Festival in London
With just under two weeks to go, Corona will be bringing the sunset moment to life at this year's Corona SunSets Festival at Greenwich Peninsula on 30th July. To give music lovers a real taste of summer, real sand is being transported to London in order to transform the bustling metropolis into a beach haven, providing the perfect location to celebrate the power of the sunset in a memorable way.
Some of the world-class acts lined up to headline the two main stages include Robin Schulz, Felix Jaehn, Sam Feldt, Norman Jay MBE, Nightmares on Wax and Crazy P Soundsystem, The Him, Riki Inocente, Coco Cole and special guests Kungs, promising an incredible selection of music from chilled acoustic beach tunes to upbeat, melodic and deep house.
Robin Schulz, says: "There is something really special about the Corona SunSets Festival and I can't wait to celebrate summer right in the heart of London. I'm looking forward to performing on the Griffin stage and experiencing the festival for myself – absorbing the magic going on around the site and celebrating the sunset at what is set to be an incredible event."
People will also be able to experience a transformation through an array of activities; including eclectic musical performances, sunset rituals and shows, beach games and golden sunset tattoo and body painting to initiate guests into the SunSets Tribe. There will also be a huge selection of delicious food options and specialty dishes to choose from, positioned alongside market stalls where local merchants will be selling handmade items. Upon entry festival goers will be invited to contribute their wishes, thoughts and dreams to the hand-crafted flags adorning the entrance of the site, creating a festival experience like no other.
For the remainder of the summer, Corona will also be hosting a series of sunset events at a number of well-known bars and clubs around the country, including: Patterns in Brighton on 24th July, Rainbow in Birmingham on 6th August, Number 90 in London on 7th August, Last Days of Shoreditch in London on 21st August and Dalston Roof Park on 28th August, finishing with an end of summer celebration at The Watering Hole in Cornwall on the 3rd September.
For more information on the Corona SunSets experiences and to buy tickets to the Corona SunSets Festival in London on 30th July, please visit www.CoronaSunSets.com. 18+.
Share your experience with #CoronaSunSets and #ThisIsLiving
Instagram: www.instagram.com/Corona
Twitter: www.twitter.com/CoronaUK
YouTube: www.youtube.com/user/CoronaExtra
Facebook: www.facebook.com/Corona