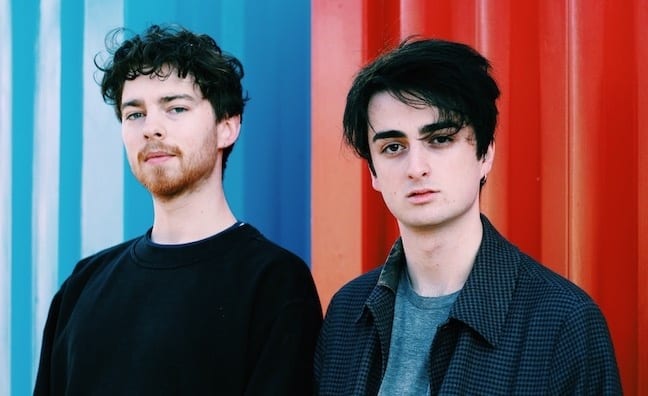 Cousn release latest single "Are You With Us" via FAMLY Records
Having kicked off a packed summer release schedule of original tracks and remixes last month with ​'Ritual', following on from the much-lauded 'Brain Ticker' last summer, Bristol-based Cousn continue to challenge and excite with their trademark low-slung analogue-heavy sound. This time around, the duo mark a return to their FAMLY Records label with the heavy-hitting ​'Are You With Us​', a weighty, bass-led floor-filler encapsulating the kind the of music the boys would be playing at festivals like Glastonbury this summer, if such things were possible.
Reflecting on the release, cousins Alfie and Billy Goffey described how 'Are You With Us' "has taken a number of different meanings since we first wrote it but in the current climate of change and uncertainty that we now find ourselves in, it feels much more like a call to action to rally our generation: keep being creative and don't be deterred, as we are the ones who have the power to bring about change." -​ Cousn
That defiant passion can be heard right from the get-go as the no-nonsense 'Are You With Us' begins with robust hats and a pulsing, acid-twinged bassline. The breakbeat rhythm builds dramatically, with the instantly memorable vocals sung by Billy conjoining on toughened claps and echoing siren samples. Weighty, provocative and powerful: suitable descriptions for a stunning release that reflects the duo's mindset following months of lockdown and their desire for future change.
Having garnered industry-acclaim through standout performances at Glastonbury, DC10 and Warehouse Project so far in their career, 2020 has seen ​Cousn expand their radio presence with a debut monthly residency on London's iconic Rinse FM. Pulling in worldwide listeners since April, the ongoing situation has resulted in the duo's UK wide tour being put on hold this year, with performances at London's Fabric and Village Underground, Manchester's YES and Bristol's Motion having to be postponed due to Coronavirus.
Buy 'Are You With US' here: https://www.beatport.com/release/are-you-with-us/3062889