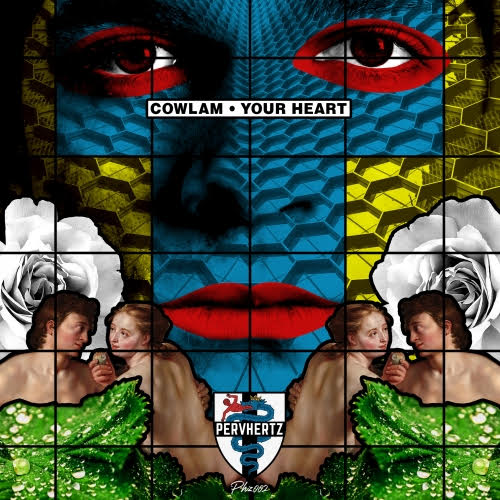 Cowlam – Your Heart EP [Pervhertz]
Cowlam joins renowned Milan party label Pervhertz for their second ever release. While many were forced to slow down in 2020, Cowlam continued to press forward at velocity with his releases receiving regular support from Pete Tong, Cristoph, Lane 8, Blueprint, Josh Samuel and many more.
Your Heart is driving progressive techno number, with octave increases as the track progresses to add the tense yet emotive feel combined with a dirty rumbling bass and elegant plucks and all of this is tied together by the hauntingly beautiful vocal, a proverbial cherry on the cake…tasty!
Sands of Time is a lock down inspired track, with rising organ chords panning across the track, complemented by a driving bass-line and dark elemental pads packed full of aggression and raw emotion. The outcome an emotionally charged track reflective of Cowlam's feeling at the time of creation.
This lockdown inspired EP is packed full of raw emotion and soul sure to connect with listeners across the world, seeking solace during these challenging times.
Cowlam 'Your Heart EP' is out NOW on Pervhertz.
Grab your on Beatport here >>> https://www.beatport.com/release/your-heart/3267273

Stream on Spotify here >>> https://open.spotify.com/album/5R4PEh8dEf7qQCnKDQoLPW?si=3rX9Ov4dSG6QW4iYDDzhww
Tracklist:
1. Your Heart (Original Mix)
2. Sands of Time (Original Mix)
Connect:
https://www.facebook.com/cowlam.music
https://www.instagram.com/cowlam_music/
https://soundcloud.com/cowlam_music
https://www.beatport.com/artist/cowlam/798036
https://open.spotify.com/artist/6MhhSVA6Mc4JmJedQmQxNY?si=gI1MdYVCTLqJR8g1y9fipw