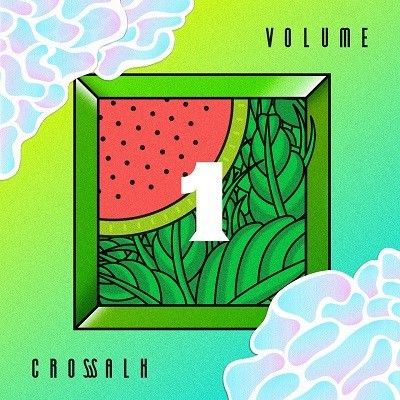 Crosswalk - Crosswalk Volume 1
Having played a key part in the recent development of the melodic deep house scene, French label Crosswalk are releasing their first compilation in conjunction with Believe Recordings on 15th June.

Boasting a roster that has featured the likes of Klangkarussell, the label's compilation 'Crosswalk Presents: Vol. 1' will feature tracks from established acts as well as emerging producers.

Crosswalk's strong identity is conveyed through the use of bold, colourful graphics created by French design studio Les Zinc, which have been animated as part of the videos for the compilation's teaser and lead single. According to the designer, the artwork unveils a colourful universe revolving around the summer and represents the light-hearted spirit of the artists' tropical sounds.

Swiss producer Sebastian Carter, known for his remixes of Alt-J, Flume and MNEK, contributes a cut featuring Aela Kae that has already garnered attention online, with Earmilk praising his 'on-point vibe'. Meanwhile, singer Molly features on a production by promising talents Kungs and Mozambo, the latter of whom made waves last year with their remix of Disclosure's 'Latch'.

Up-and-coming duo Ofenbach team up with fellow Parisian FDVM for 'Kumbaye', while their solo track 'Around the Fire' forms the lead cut from this compilation. Young Belgian producer Lost Frequencies, whose track 'Are You With Me' recently featured as BBC Radio 1's Track of the Day, also contributes. 'Where Are You Now' is brilliantly paced, with the initial drop settling a host of complex rhythmic elements.

Avid remixers MÖWE and De Hofnar, whose recent tracks have seen SoundCloud plays in the millions, team up for compilation cut 'Crazy Love' with German producer Freddy Verano, who worked with Sam Smith early in his career on the deep house track 'Moments'. Meanwhile, Aloka's contribution 'Let Go' received previous recognition when it was hosted on the influential YouTube channel Mr. Suicide Sheep.

The remaining artists represent what Crosswalk describe as 'an adventure of eclecticism aimed to diffuse universal music without concession'. Already boasting a dedicated following in the tropical house scene, Crosswalk's 'Crosswalk Presents: Vol. 1' is sure to prove one of this summer's successes.
TRACK LISTING
1. SEBASTIAN CARTER – FASCINATION (FEAT. AELA KAE)
2. KUNGS & MOZAMBO – TO DESCRIBE YOU (FEAT. MOLLY)
3. OFENBACH – AROUND THE FIRE
4. LOST FREQUENCIES – WHERE ARE YOU NOW (FEAT. CHESQUA)
5. DIMMI – SUGAR
6. MAX LIESE – SUNSTRING (ELVINCI&CO REMIX)
7. AEROKIND & GUITK – MILES AWAY
8. FREDDY VERANO, MÖWE & DE HOFNAR – CRAZY LOVE
9. ALOKA – LET GO
10. OFENBACH & FDVM – KUMBAYE
11. FELIX MIXX – FRIENDS (FEAT. BUNCHED & TOM BOSLEY)
12. iii! – TIPSY SO HONEST
13. SASHA VENTURA – GABRIELLA EYES
14. NICOLAS HAELG – WIR SIND