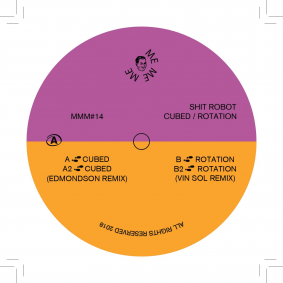 Shit Robot - Cubed/Rotation
Man Power's Me Me Me welcomes back Shit Robot for a first full EP, after he appeared on the 'We We We' charity compilation and, before that, remixed Forriner. His two standout originals here come with, as the boss describes, two 'proper' remixes from Vin Sol and Lissoms label boss Edmondson.
Irish electronic musician and DJ Shit Robot has released the vast majority of his music on the legendary DFA. He brings real production mastery, a true understanding of dance floor dynamics and years of experience to his celebrated grooves.
On the A side he serves up the perfectly deep and bumping 'Cubed,' which has exquisite drum programming to get you moving and distant synths that bring a sense of brooding melancholy. It's a tasteful track with real freshness. For the B side he offers up 'Rotation' which is equal parts analogue-jack and rave-synth anthem. It's one to get the hands in the air and brings a classic, timeless vibe to the floor.
Lissoms associate and label regular Edmondson turns in a typically unique remix, yet again hinting at his background in non-4/4 sounds and showcasing his unbelievable deftness for sound design. His mix of 'Cubed' is a dreamy broken beat number with floating pads and ambient beauty that casts your mind free from any sort of stress.
Vin Sol is an esteemed producer on labels like Clone and Nonplus who has a direct and arresting sound. His excellent remix of 'Rotation' expertly captures the raw, darker spirit of late '80s house in a way that only the original early pioneers, Vin Sol himself, and a perhaps a handful others can.
Also included as a digital exclusive is the brilliant bonus Shit Robot track 'The Life To Come', for that added low slung jazz-house fix.
This is another bristling package of vital dance floor cuts that highlights Me Me Me's status as an absolutely essential label.
Tracklist:
1. Cubed
2. Cubed (Edmondson version)
3. Rotation
4. Rotation (Vin Sol remix)
5. DIGITAL ONLY Shit Robot – The Life To Come