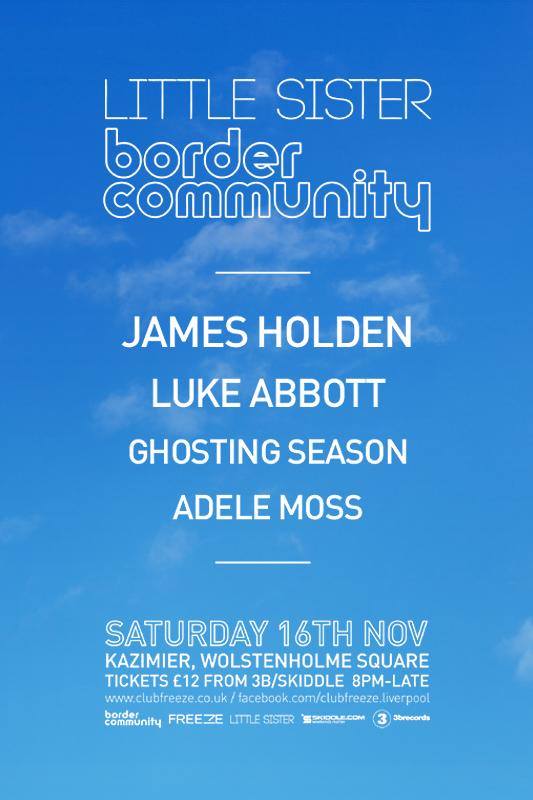 Freeze and Little Sister present… Border Communities Saturday 16th November @ Kazimer
Once again collaborating with Little Sister, Freeze head towards the twilight of the year with anther instalment of otherworldly electronic music in a venue perfectly befitting the aural excellence. Following on from jaw-dropping showcases with Innervisions, Cadenza and Bedrock they once again team up with a label of international realm to promote Border Community's values of electronic excellence at the Kazimer.
Freeze's commitment to the most historic and breath-taking environs for their events has ensured that the occasional use of a club space doesn't do so without an equally alluring remit. The Kazimer's reputation for presenting forward thinking events and high calibre production testifies this, shown off devastatingly well when Michael Mayer played for Freeze and Little Sister in July.
This time round the reigns are handed to yet another lynchpin of the cosmopolitan European techno sound, Border Community's head honcho James Holden. As one of the most inspiring doyens of melodic electronic music, Holden has been one a fascinating figure of electronica for over a decade. He first wowed tastemakers with his sublime progressive trance, his 'Horizons' track a favourite for the likes of Sasha, Sven Vath and John Digweed at a point where the genre still retained a laudable reputation amongst the electronic elite.
It was when his sound evolved and Border Community was created though that he became a truly epochal artist. Along with a stable of artists such as Nathan Fake (their combination when Holden remixed Fake's 'The Sky is Pink' remains a true underground masterpiece), he was creating music that was intricate, beautiful and innately human, at a time when the vogue sound was cold and clinical. He remains one electronic music's most regal; figures and another strong addition to the burgeoning list of greats that have graced Freeze.
He'll be joined by label mate Luke Abbot and perennial Freeze favourites Ghosting Season, both playing live, whilst Little Sister's resident DJ Adele Moss completes the bill.
Full Listing Info
Freeze and Little Sister present… Border Communities
Saturday 16th November @ Kazimer
4-5 Wolstenholme Square, Liverpool, L1 4JJ
James Holden
Luke Abbott
Ghosting Season
Adele Moss
More TBC
£12
Tickets: http://skdl.it/YWYpM2
10pm – 4am