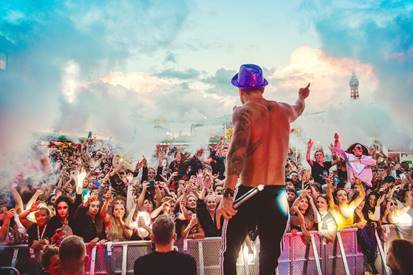 Cutting Edge Sounds and a Mesmerising World in the Woods – Wonderwood Launches for 2019
Wonderwood is the brand new, boutique forest summer event, from the expert team behind the game-changing PierJam and BassJam events. Taking place on Saturday July 27th 2019, the essential, one-day event will invite guests deep into the mystical forest of Witton Country Park in the rolling hills of Lancashire where they will be mesmerised by three beautiful and bespoke stages, a luxury VIP area, mouthwatering global cuisine and awe-inspiring production, as well as huge talent, including Bugzy Malone, Gorgon City, Holy Goof, Low Steppa, Mason Collective, Sam Divine, SASASAS and Todd Terry, plus many more to be announced. Tickets start at just £27.50, with VIP tickets from £50 and all available on Friday November 30th at 9am from www.wonderwoodfestival.com
Wonderwood is set to be a perfect escape from the hustle and bustle of everyday life as it takes you into a magical, immersive world. Guests can lose themselves to an incredible soundtrack of house, bass, grime and techno, safe in the knowledge that the Wonderwood team will bring all their experience and know-how to ensure the production, organisation and sound systems will all be of the highest order.
Many of the acts playing Wonderwood (Bugzy Malone, Gorgon City, Holy Goof, Low Steppa, Mason Collective, Sam Divine, SASASAS) have rocked the crowds at PierJam and BassJam before now and will be welcomed with open arms in this exciting new location. As PierJam heads into its fifth year of standout events on Blackpool and Hastings Pier, and BassJam its third year at the Bolton Macron Stadium and O2 Victoria Warehouse, the Wonderwood crowds can trust the organisers' history of sell out events and heavy hitting lineups; this new event is a mouthwatering one indeed.
Once revellers disappear into the enchanting woods, they should prepare to leave their worries behind and be amazed: Wonderwood really is designed to create a sense of wonder, with next level production that will live on in the memories of all who attend. Expect stunning designs and comprehensive themes that will add up to an unrivalled experience and truly unique atmosphere. Guests will be welcomed by three bespoke stages that offer different musical vibes and stunning visuals. There will be a food village with an array of global cuisines, with many different tastes catered for, as well as interactive and immersive entertainment throughout, that will ensure time at Wonderwood passes in a mesmeric and unforgettable daze. For those who like the high life, there is unrivalled VIP treatment featuring; luxury loos, VIP seating area, VIP food, a custom built VIP stage and amazing pamper zone in which to relax and chill.
Musically of course, plenty of shades, scenes and styles are covered, with grime king, Bugzy Malone from Ill Gotten Records and the man behind 2018 chart hits like 'Clash of the Titans' and 'Run', on the bill, as well as other crossover stars and house royalty, Gorgon City, while genre mash up artist and Fabric mix veteran, Holy Goof, also steps up. Bass-driven hitmaker, Low Steppa will take to the Wonderwood turntables, as will Manchester's red hot, Mason Collective, who are setting the modern house agenda with their big tracks on Sola. Defected's house queen, Sam Divine lines up, after coming off a huge summer of headline gigs around Europe, as well as the peerless, SASASAS collective a.k.a drum & bass legends Shotta, Skibadee, Shabba, Phantasy and Macky Gee, who have delivered at PierJam and BassJam events many times. Last but certainly not least, New York house legend, Todd Terry, will bring his timeless kick drums and chopped up vocals.
This is the first wave of names with many more to come, but already Wonderwood is shaping up to be a unique experience; a real alternative to the mainstream summer events out there in 2019, mixing cutting edge sounds and unparalleled production, with an awe-inspiring location and the natural wonderment you can only find in the forest.
Stay tuned for further lineup announcements by following Wonderwood on Facebook at www.facebook.com/WonderwoodFest