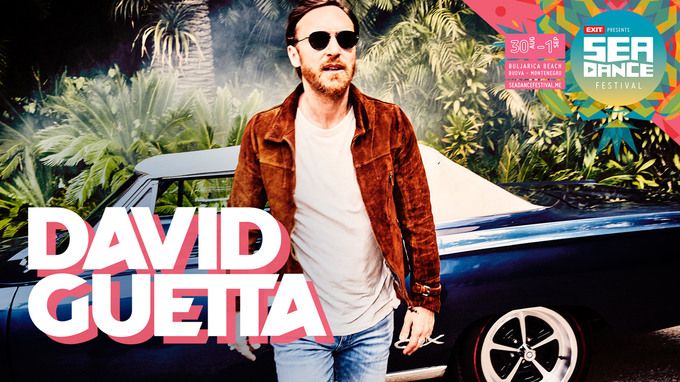 EXIT confirms David Guetta to headline Sea Dance Festival in Montenegro
David Guetta, the most successful music producer of the 21st century and one of the world's most sought-after DJs, is going to headline this year's Sea Dance Festival in Montenegro, promoted by the award-winning EXIT Team, scheduled from August 30 to September 1, 2019! The festival is located near the city of Budva at the stunning Buljarica Beach, a 2-mile long sandy cove with spectacular views to the surrounding mountains facing some of the best sunsets in the Adriatic coast. Last year, Sea Dance has gathered almost 50,000 visitors out of which many have stayed in festival's official campsite tucked in the century old olive trees, right next to the beachfront and all of festival's five stages. After winning the Best European Mid-Sized Festival award in 2015, Sea Dance remained ever since among the top 10 festivals in its category at the European Festival Awards, the highest recognition industry has to offer.
This summer, the festival goers from all over the world will get to party in the Adriatics with David Guetta, the French superstar who spearheaded the music industry's revolution making electronic music its leading genre and DJs its next superstars. Guetta is one of the most popular music stars with 11 billion YouTube views, 2 billion Spotify streams and over 100 million fans on social networks worldwide, while the A-list of musicians he has worked with includes David Bowie, Rihanna, Snoop Dogg, Sia, Nicky Minaj, Avicii and dozens more. At the same time, he is the only DJ who managed to sell a dizzying number of 50 million albums and singles. He is also the winner of numerous awards, such as two Grammys, Billboard, MTV, DJ Mag and many more. His new album '7', the first in five years, went to the top of the global iTunes list, while his last single "Say My Name" has already gone beyond 300 million views on YouTube! Aside from playing Guetta's countless hits, Sea Dancers can warm up for the new edition of this massive beach party in the Adriatics with the last year's official aftermovie!
Sea Dance Festival 2018 | The Official Aftermovie: https://youtu.be/S-TLCft_XEE
Get early-bird tickets at 50% off!
On March 5 a very limited number of early-bird tickets for Sea Dance will be offered for the best price of 39 EUR +bf/£34 +bf! Also available will be the VIP GOLD three-day tickets for 100 EUR +bf, as well as the tickets for the festival camp for the price of 25 EUR + bf, available via www.seadancefestival.me. Festival visitors who wish to bundle tickets with accommodation and airport shuttle, there are also packages from €79. The default accommodation is the festival camp which is located on a sand beach in Novi Sad, next to the river Danube, while hotels can be booked through EXIT's official tourist agency at www.exittrip.org