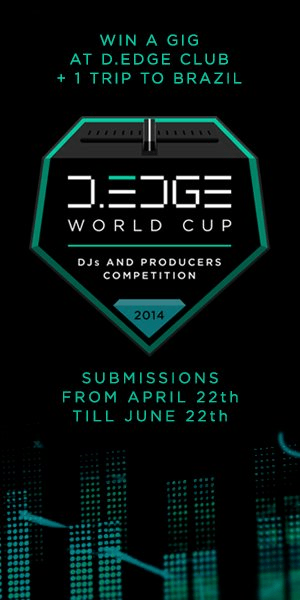 D Edge's World Cup Competition
Brazil's foremost nightclub D Edge is hosting a very special competition from March to June in the run up to the World Cup. It requires DJs from all over the world – of any standing, age, background, level of fame and skill – to upload their best mix to the D Edge Mixcloud page.
Producers are also invited to upload their finest unreleased productions to the D Edge Dropbox and then the club's founder, resident and driving force Renato Ratier will pick his top ten entries as a main curator of the competition.
The ten finalists will then canvas for votes on the internet and the most supported 3 will get to go to the final. Form there Renato Ratier will pick his overall winner.
The lucky winners will get…
• a 4 day trip to Brazil during In August
• flights
• hotel
• dinner
•1 gig at D-Edge – 500 euros
How to enter:
from our part we just need this special detail:
To entry the competition the subscriber must Like The curators page to get more about him.
https://www.facebook.com/djrenatoratier?fref=ts
And enter here – http://www.mixcloud.com/competitions/d-edge-2014-world-cup-competition/?_sig=DV8-eH91QkkxbbC_7E18Cj4PcaM