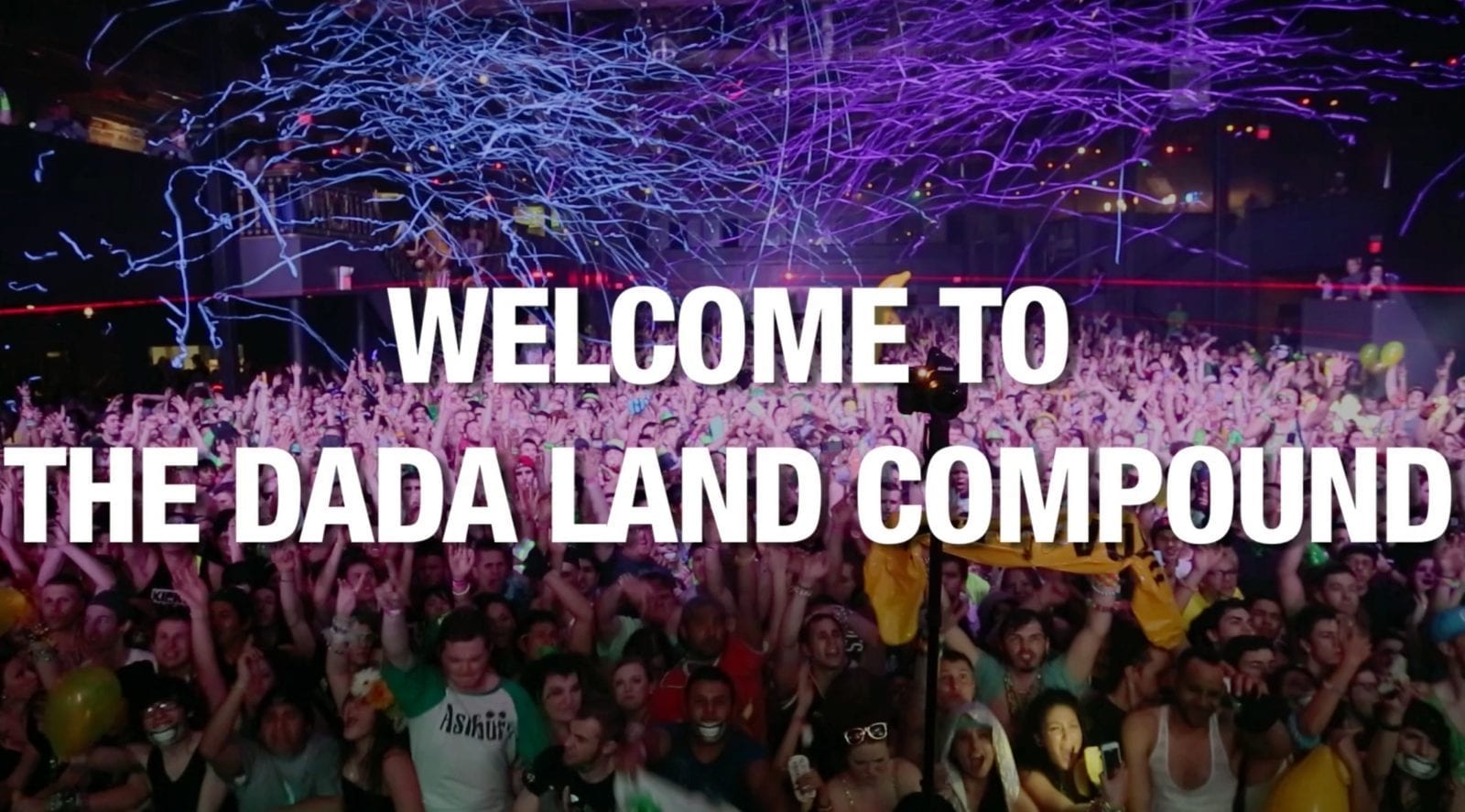 DADA LIFE RELEASE OFFICIAL 'WELCOME TO DADA LAND' DOCUMENTARY
In a huge week of news from Sweden's Dada Life, the pair bring you four massive announcements: their new single 'One Last Night On Earth' streaming exclusively on Spotify; the full line-up of The Voyage 2015; one of the biggest competition prizes ever in the history of Dada Land; and an amazing new documentary live now on YouTube!
DADA DOCUMENTARY:

In February 2015 Dada Life embarked on their most ambitious tour to date in an effort to bring the Nation of Dada Land to cities across North America. Compounds in Brooklyn, Houston, Phoenix, Detroit, Milwaukee, San Jose, Edmonton, Denver, Salt Lake City, Toronto, Miami, El Paso and St. Petersburg fell before crowds of thousands converging on some of the most unusual and dynamic venues ever to be taken over by an electronic act, all in the name of Dada.

Now, two months after the lights died down on their final Compound show, Olle Cornéer and Stefan Engblom release an exclusive and at times emotional behind-the-scenes documentary film that dives head first into the wonderful world of Dada Life.


WATCH "WELCOME TO THE DADA LAND COMPOUND"
STREAM 'ONE LAST NIGHT ON LIFE' ON SPOTIFY
ENTER TO WIN DADA LIFE'S BIGGEST EVER COMPETITION
BUY TICKETS TO THE VOYAGE 2015
Filmed not just from Olle, Stefan and their entire team's point of view, the documentary also taps into the people that make up one of the most loyal and fervent global fan bases of any electronic act.

Over the past five years, Dada Life have created an extraordinary bond with their followers; devotees of Dada looking to leave the real world at the door and enter a safe, positive, embracing environment where absolutely anything goes. From world record pillow fights to champagne showers and legions of banana-suited Citizens of Dada Land, Dada Life has been just as much about the people surging to each show as it has been about Olle and Stefan – a point they make clear in the documentary.

"I think a lot of artists, DJs, say "Oh, I love my fans, I like my fans,"" says Stefan, "but for me, personally, I actually love our fans."

"In most shows you go to, it's more seeing the performer up here, and you're in the crowd and you're down there, and you watch something," Olle continued, "but we wanted to be on the same level, we want people to interact with us all the time, so the pillow fight, the photo booth, it's all one big dysfunctional family, Dada Land."

THE VOYAGE LINE-UP & COMPETITION:

With just weeks to go until the Nation of Dada Land converges for their biggest event yet, the 2015 edition of The Voyage in San Bernardino, CA on July 18, the full line-up has been unleashed. Joining Dada Life at the San Manuel Amphiteather will be 12th Planet, 3LAU, Andybody, Bixel Boys, OOKAY, Party Favor and Wuki. The Citizens of Dada Land are set for yet another spectacular, unique, and thoroughly Dada experience, but for one Citizen, the event will be something they'll never forget! Teaming up with event organisers Insomniac, Dada Life unleash their biggest competition prize package yet.

One lucky winner will receive the following:

· Two tickets to EDC Las Vegas
· A private golf cart ride around the festival grounds
· Two tickets and a camping pass to The Voyage 2015
· Ride into The Voyage 2015 with Dada Life in their hot air balloon
· Watch Dada Life's closing set from side stage
· Two banana suits to help break the Guinness World Record
· Two tickets to Nocturnal Wonderland

To enter, simply visit www.hive.co/l/9bo and follow the instructions!

ONE LAST NIGHT ON EARTH:

Finally(!), Dada Life fans get their first chance to listen to the band's latest single 'One Last Night On Earth' in full today, thanks to a week-long exclusive period on the world's biggest streaming site Spotify.
The track, set to be released for full download next week on June 9, is another huge smash from Olle Cornéer and Stefan Engblom. Containing one of the most infectious EDM hooks in recent memory, it is certain to be a mammoth favourite on the club and festival circuit this year. A battle cry to dance floor action from the two Swedes, Olle and Stefan traverse brilliantly between the track's ethereal, 'hands in the air' moments and the more fist-pumping, adrenalin-inducing sections. The pair gradually crank the tension up, giving the vocal line and full-bodied piano chords enough breathing room to lay the foundation for an increase in momentum, before exploding through into the break down in typical Dada Life fashion.

Dada Life 'One Last Night On Earth' is streaming exclusively on Spotify now – available to buy on all major download sites June 9.