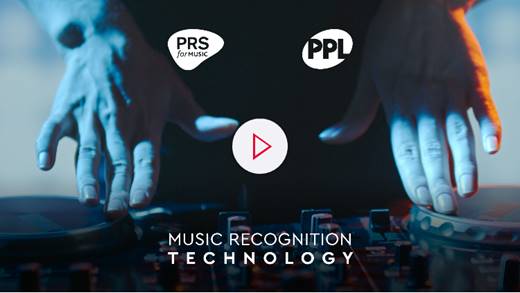 Dance music industry back PRS for Music and PPL as music recognition technology is extended to nightclubs
Many more dance music creators will receive royalties from performances of their music played by DJs in nightclubs, as PRS for Music and PPL expand their distribution policies to include data generated from music recognition technology, in turn improving the accuracy of royalty distributions.
The policy changes come following a year-long nationwide pilot carried out by the two music rights organisations. The pilot tested the accuracy of music recognition technology in identifying music played by DJs and evaluated how the data gathered could be used to supplement existing distribution methods.
Members of both organisations receive their first royalty payment from data collected and reported via music recognition technology in nightclubs this year.
A small music recognition device installed in participating nightclubs, listens to the music a DJ plays and analyses it against a database of millions of individual sound recordings, creating highly accurate setlist information. PRS for Music and PPL then use this setlist information to distribute royalties back to the creators of those recordings and works.
Over 31 million seconds of music have been captured by music recognition technology in participating nightclubs so far, with up to 95% of all music played successfully reported back to PRS for Music and PPL.
The use of music recognition technology in nightclubs has potential to grow. PRS for Music and PPL are calling for more venues to adopt the devices and encourage members to upload their recordings and metadata to chosen tech partner, DJ Monitor, to ensure continued positive progression for the future.
To mark this significant shift for the dance music community, a new video featuring Lohan Presencer (Chairman of Ministry of Sound), Simon Dunmore (Founder of Defected Records), and B. Traits (DJ, producer and presenter) urges UK nightclubs to support the use of music recognition technology and explains the important impact this development will have for dance music creators.
Lohan Presencer, Chairman, Ministry of Sound, has been an ambassador for the project right from the outset of the pilot and continues to champion the initiative: "We are wholly supportive of music recognition technology going into bars and clubs so that the right people get paid. This is in no means a threat to venues themselves because they're already paying the licence fee and the licence fee that they're paying is the same amount of money regardless of what is being tracked in their clubs. This is for the benefit of the creators and it's important that bedroom DJs, bedroom songwriters and small independent creators get paid properly for their music."
DJ, producer and presenter, B. Traits, said: "I play mostly underground dance music, leaning mostly towards techno, jungle, breaks, but I am an eclectic artist with very eclectic taste. It's really, really important for clubs to start backing this kind of thing so that the younger, new, up and coming, underground artists can understand that they can actually make a proper living from it, by just getting their music played, rather than DJ gigs alone. From a DJ's point of view, music recognition technology is completely private and secure. The information captured will never be made public, it's only going to be used to pay the artists whose music you've played."
Simon Dunmore, Founder, Defected Records, said: "Music is very important in people's lives. We're all enriched by the music that we love, whether it's music that you dance to or music that's just really personal to you. So, I believe that someone responsible for that should get their due reward. Clubs and venues incorporating music recognition technology will increase the creativity within the scene which means that our lives will be even more fulfilled."
Claire Jarvis, Director of Membership, PRS for Music, said: "PRS for Music and PPL play a vital role at the heart of the music industry, ensuring music creators are paid fairly when their music is played in public. As the industry evolves, we are constantly innovating to adapt. DJ sets are spontaneous and varied, changing from gig to gig, which can make it difficult for DJs to tell us what they play. Now, working alongside bars, clubs and events across the country, music recognition technology is helping to improve the way that music creators are paid when their music is performed in clubs."
Peter Leathem, Chief Executive Officer, PPL said: "PPL prides itself on being at the forefront of technological innovation within the music industry and this music recognition technology pilot exemplifies how we are trying to continually improve our service to members. This initiative will further support PPL and PRS for Music in identifying the music being played in the venues participating in the pilot even more accurately."