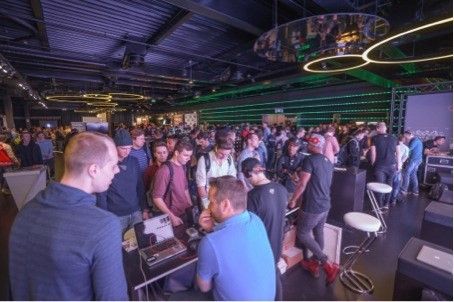 Dancefair Announce Panels & Masterclass Sessions
On the 24th of September, Dancefair Ibiza brings together underground & mainstream artists like Paul Van Dyke, Marco Bailey, DJ Sneak, Michel Cleis, Uner, Laidback Luke and many more at Benimussa Park, Ibiza, for an educational & music networking that will see people given production masterclasses, attend panels and discussions and more besides.

In the same open-air location where the infamous Zoo project is held, the artists already announced will help you achieve your dreams as a producer and DJ in the perfect environment and teach you all you need to know about electronic music from all angles. Brands such as Point Blank, Future Music and Mixmag are also involved and have handpicked their guest speakers so as to be of best use to you.

Industry specialists like Steve Hulme of Pacha, David Vincent of Sankeys, Spanish PR honcho Rafa de Siria, David Moreno of Ibiza Global Radio and Alex Montoya of Magnum Bookings will all deliver key speeches and panels on how to make it in the game. They will answer questions like How can you promote yourself? How do they build their artists? And how can you use this information for your own benefits?

As well as this, there will be production lessons under the title of 'In the studio with' and these will be hosted by the likes of Darius Syrossian, UNER, Shlomi Aber, laidback Luke and some special guests.

There will also be Mixing & Mastering classes, lessons on how to record vocals, mixing bass with kicks, and interviews with stars of the scene such as Rob Papen, synthesizer legend. Suara label boss Coyu will host a panel on how to make your label great, and there will be discussions about social media strategy, inspiration sources and much more besides.
Gear companies like Stanton, KRK, Roland's AIRA, Rob Papen, Schneiders Buro, Apogee, Focusrite plus many more will be showcase their equipment and for you to test out.

The friendly entrance fee and relaxed atmosphere makes Dancefair Ibiza the most approachable educational music event in the world and you can also expect great performances by some of Ibiza's finest artists.
Dancefair Ibiza starts both days daytime from 15:00 – 23:30
Tickets are €35 a day and €50 for a two day pass.
Panels & Workshops.
More names to be announced before next week
Weds 24th & Thurs 25th September 2014
www.dancefair-ibiza.com
@Dancefair #DancefairIbiza